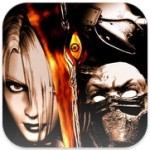 Last month Namco Bandai treated us to an excellent iOS port of the original SoulCalibur [$14.99]. It was based off of the superior Dreamcast version (or more accurately, the high resolution XBLA remake) rather than the arcade version, and came equipped with just about everything that made it a classic back then, barring a couple of significant things.
First was the baffling lack of any sort of multiplayer, as well as a few missing modes that had been in previous versions. The second big thing was the frame rate. See, one of the things that was so memorable about SoulCalibur on the Dreamcast was just how crazy smooth everything moved. The frame rate rocked a solid 60fps, and it elevated the visuals way beyond anything that was on current consoles, and rivaled much of what was popular in arcades at the time.
In our review of SoulCalibur, I definitely found the game quite attractive. The high resolution art assets popped on Retina and iPad displays, but the frame rate wasn't quite there. Don't get me wrong, it still ran really smooth, but it was probably only halfway to the coveted 60fps mark. But that changes today, as Namco has released an update that will lock the game at 60fps on iPhone 4S and iPad 2 devices. And let me tell you, the difference is dramatic.
When I saw this update, I played through the game a couple of times real quick before updating so it would be fresh in my mind for comparison. After quickly syncing the update I jumped right back into the game and was blown away by what a difference the increased frame rate makes. It was totally the thing that was missing from SoulCalibur on iOS that really completes the nostalgia trip for owners of the Dreamcast version like myself.
It may sound like a minor thing, but the 60fps was a key element of SoulCalibur and I'm happy Namco Bandai took the time to add it in to the iOS version. Now I can focus all my attention on bugging them for some sort of multiplayer mode, but if you have an iPhone 4S or iPad 2 make sure to check out the ultra smooth new update to SoulCalibur.