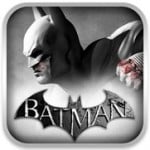 Last month, after basically zero pre-release hype, we were pretty surprised to see Batman Arkham City Lockdown [$2.99] pop up in the App Store. Perhaps even more surprising was that NetherRealm Studios, developer of the recent (and excellent) Mortal Kombat reboot on consoles, was behind the iOS title.
And, even more surprising still, Batman Arkham City Lockdown was actually pretty freaking awesome. It was built using the Unreal Engine, so the graphics were definitely up to snuff. And the gameplay took a tiny page out of the Infinity Blade handbook, having you face off against baddies in one-on-one battles using swipe controls to dish out the pain. The combat didn't quite have the complexity of an Infinity Blade, but it was fun nonetheless.
Now, Batman Arkham City Lockdown has just received its first ever sale, dropping from its normal $5.99 price point down to $2.99 for a limited time. If you're wondering if this is the game for you, then be sure to give our full review a read for some insight. Personally, I had a ton of fun with Arkham City Lockdown, and thought it was well worth its original price. For $2.99 I think it's a steal, especially if you're a fan of the Batman, as the developers have done a wonderful job of making the game feel like a fully realized Batman experience. Definitely check it out and take advantage of the sale while it lasts.