Fingle [$0.99] should come with a warning. Maybe "Caution: always bring protection"? I mean, sure the iPad is great for co-op games with the fam, but not this time. This time, things might just get a little… heavy.
Finger twister isn't new, but Fingle is a finger twister game with one purpose: flirtation. A cheesy soundtrack, suggestive backdrops and more than a few double entendres might be enough, but Fingle doesn't settle for enough. Your fingers will stroke hers, or his. You'll make terribly lewd gestures at one another. Fingle takes its premise all the way.
Here's how you play the game: there are squares, and there are boxes, and the two must meet. Some are yellow, some are white. Your fingers rest on one set, hers on another. And then you do as you're told.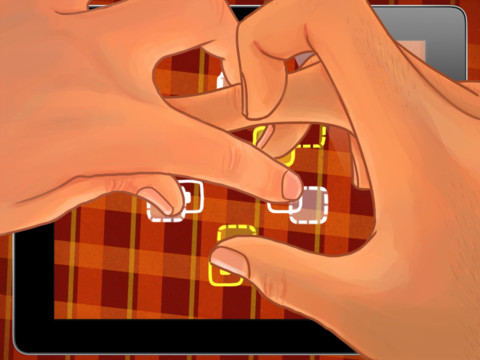 At first this is simple. Drag a box here, hold it there. Your fingers might brush up against one another. Then things heat up. One player finds himself stroking his hand over the other's. It gets pretty steamy.
Sort of, anyhow. There are a few rules you have to follow to get the full effect. You can't really play solo, for, um, obvious reasons, and you need to use one hand each. Two hands is easier, but it's a lot less fun. Stick to those rules, and one of you will basically end up in the other's lap before long if you want to pull off some of the moves.
So you can see why you don't want to play with a stranger, or your Grandma. You might also not want to play for too long. While Fingle starts out very flirty, it actually gets pretty hard over time. If one of you has small hands, long fingernails or sweaty palms, you might find it a bit out of your league. Nothing kills the mood quite so much as frustrated failure.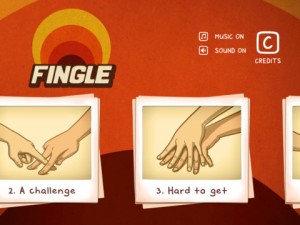 There are over 50 levels to work through, so as long as you know your limit you'll be fine. If you're actually playing to tease, work through the first level pack or two. It starts out slightly subtle and gets suggestive quickly. If you're playing for a challenge, something that's totally possible, work your way through all the rest. Fingle is missing a lot of the traditional game structures we're used to — scores, points, achievements and the like — but it's certainly a good time for two people who are comfortable with a little touching. The design that has gone into this game is truly charming, so it's hard to say no.
In all seriousness, you need to know your audience if you're going to play. You can definitely go at it platonically for a laugh, but first be sure you both know where you stand. And you could certainly make someone extremely uncomfortable if you're not at the point where cheesy 70s-style music, suggestive sound effects and light touching is okay. Fingle is the sort of game that could start out funny and end up sexy, or start out cold and end up with a slap to the face. Judge carefully, and stop by our discussion thread to let us know how it goes – just keep it work safe, tiger.