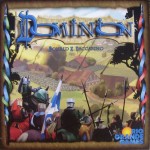 In case you've never heard of it before, Dominion is a deck building card game created by game designer Donald X. Vaccarino and published by Rio Grande Games in 2008. Since its release, Dominion has been ripping up the charts over on BoardGameGeek, and has won all sorts of other awards including taking home game of the year at Germany's Spiel board game festival. In fact, Dominion's success and popularity have spawned an entire genre of other similar deck building games.
A few days ago, Dominion Donald X. Vaccarino [Free] hit the App Store, and since then I've been trying to verify the validity of this port. It seemed pretty shady, and the developer's web site sure didn't help things. After some additional digging, I came across a post by Rio Grande Games' Jay Tummelson over on BoardGameGeek. It turns out that over the years they've given their blessing to a number of developers to release iOS versions of Dominion, provided they agree to remove it once the official version hits the App Store.

Video review courtesy of The Dice Tower
What's more interesting though, is that the official licensed version, per this same forum post, is only "a few weeks" away. Even more curious though is that Chillingo currently has a game titled Dominion [$1.99] on the App Store as well. We'll just have to wait and see how the dust settles on all of this. If you're interested in Dominion, I'd snag the free version out now, and if you own Chillingo's Dominion it might not be a bad idea to back up the .ipa just in case there's any hijinks with take-down requests by Rio Grande Games so they can score the "Dominion" title on the App Store.
I hope Rio Grande is serious about this "few weeks" thing, as an official version of Dominion has potential to be awesome.