In an attempt to convince people that Internet Explorer 9 paired with Windows 7 is a good thing, Microsoft and Zepto Labs are offering a free HTML5 version of Cut the Rope with special features exclusive to the browser and OS. You don't need either, though, to experience what is essentially the mobile Cut the Rope experience at the game's web site — Chrome, Firefox, or Safari all work fine.
As TechRadar explains, the point of this is to show off the pinning component between the OS and IE9. When you pin the web site, you'll be given a set of special levels. Isn't it nice when things work together like friends?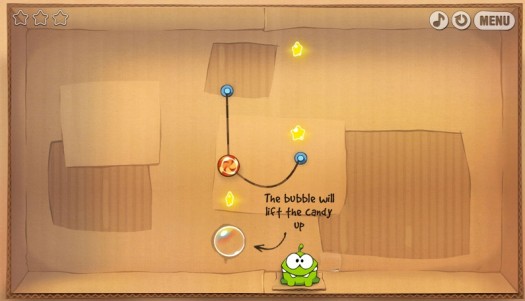 Of course, we know Om Nom best from our times spent with it on the phone. After a few minutes of this web version, we're thinking that touch is still the ultimate way to play. On the other hand, teaming up with Microsoft increases awareness, which isn't a bad thing if that also increases the chances of new iOS follow-ups.
If you haven't yet played Cut The Rope, give this free version a try. If you like it (which you likely will) strongly consider downloading the real iOS versions of the game.