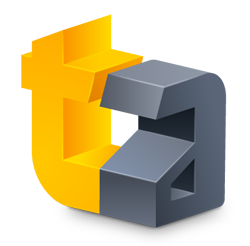 Welcome to 2012.
TouchArcade has grown considerably over the past year with new hires and more content. This additional help has finally allowed us to devote time to some tasks that have long been on our TouchArcade to-do list. For example, our iOS app, which we previewed last week, should become available sometime in early 2012.
One of the other major tasks for 2011 was trying to find a new logo for our site.
While we all liked our Space Invader themed logo, which Taito was very kind to license to us, we felt it was time to break out into our own distinctive branding. Finding a suitable logo to follow such an iconic gaming character was no small task, as evidenced by the number of talented designers who valiantly tried along the way. We finally found a logo that we all loved just about a month ago, and we are launching it today.
The final logo was created by Wolfgang Bartelme based on concept sketches/brainstorming by Steven Matarazzo.
The new logo will be featured in our iOS app which is coming soon. And, we are also planning on working on a major site redesign following our app release to bring the rest of the site on par with the app and new logo.