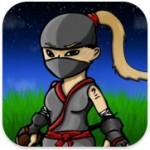 During GDC this year, Team Phobic released Undead Ocean [$1.99], an action platforming title built from their experience with the excellent Bounce On series and a healthy nod to classic action platformers from the bygone 16-bit era. We liked Undead Ocean quite a bit when it initially launched, especially due to the fantastic level designs and copious amounts of hidden areas. It really felt like the kind of game I would have gobbled up back in the day on my SNES.
Originally, Undead Ocean was built with expansion in mind by way of adding additional islands with new levels via updates. It might have taken a while, but the first major addition to Undead Ocean has hit the App Store. This update includes a new island with 15 brand new levels, new enemy types and boss fights, new powerup items, new story cutscenes, and of course something that any good island adventure needs: a huge volcano. You can see most of these new goodies in the following trailer:
Undead Ocean is one of the better action platformers available on iOS, and today's update practically doubles the amount of content from the original release. If you're looking to try before you buy, you can grab Undead Ocean Dojo [Free], a free spinoff title that features an intro level not contained in the regular game which should give you more than a good idea whether or not you'll be interested in the full, and is a pretty cool game on its own merits as well.