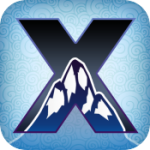 Back in November, we took an early look at SummitX Snowboarding [99¢] from Com2uS and Free Range Games. Since then, the game's been released, so now the rest of us can hit the virtual slopes for $99¢. After investing some time into the final release of the game I've reached the same conclusion as our preview: – I like what see.
There's six different mountains to conquer, including 36 different multiple-branching down-hill runs. The first slope is 'Glacier' which has six runs and you can unlock the other peaks – like Mt. Payne and Angel Peak – by winning medal points (3 points for gold, 2 for silver or 1 point for bronze). You can choose which valley to enter and each route contains different gates, with blue for time bonuses and red for a score multiplier, so it's worth exploring.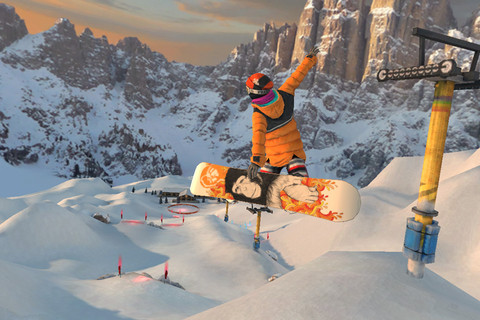 After choosing to be male or female, you start with $1000 and can earn money in the game, which is handy for buying tricks, such as the ability to tilt the device for air-control. There's a decent assortment of tricks available, such as flips, rolls and tail grabs. Doing tricks earns time bonuses and points as you fly down the mountain towards the finish.
When you leave the ground, six new buttons conveniently appear on-screen for performing tricks.  You can press one button for a simple trick, two buttons for a trickier trick or hold and slide your finger to extend the move, for the trickiest of tricks. Two landing buttons appear when you're about to hit the snow and these can be pressed to level-out the board for a safe landing, or to stop a spin, roll or flip.  These trick buttons only appear when needed and then disappear to keep the screen uncluttered, so you have a clear view of the terrain.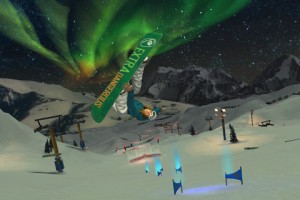 The main navigational controls are rather unusual. A two-thumbed split steering-wheel is used to turn left or right. For example, to turn left sharply:  The left thumb moves down, while the right right thumb moves up simultaneously like using a virtual steering wheel of sorts. This control scheme wasn't immediately intuitive to me, however, I persevered and after five minutes I was carving the snow quite happily. So, potentially be prepared for a little practice time at the start.
Some highlights of the game include finding massive jumps on the side of the course or jumping off a cliff, onto a small snow-coated plateau, then immediately off a ramp for some big air. There's also caves and a deep rocky ravine to jump across, with a turning landing required on the other side. These "hell yeah" moments really add to the experience and make this game a lot of fun.
You can spend your game money on a variety of snowboards, for improved performance. There's six decks, ranging from the entry-level "basix" up to the "pro board". Each board has different attributes for air-time, air-control, acrobatics, speed and toughness. Plus, there's over 20 skins to buy: Perhaps you want a zombie ape on your deck, a tiger shark or a stylish green cyclops.
Your runs are scored based on tricks performed and time taken. SummitX connects to the Com2uS gameHub, but pleasingly, it also supports Game Center for leader-boards and 15 achievements and games are automatically saved to iCloud. The music is great, featuring over 20 licensed rock soundtracks, which play in a slow-motion effect when you're aerial. Alternatively, you can pump your own iTunes playlist. There are in-app purchases (IAP) available, to unlock features, however so far it hasn't felt intrusive or necessary which is good as Com2uS have been criticized for heavy-handed IAP in the past.
SummitX Snowboarding only has one game mode and I haven't seen any other boarders to race, however, this is a cool looking and sounding snowboarding game, with peaks, runs, boards, skins and tricks to unlock, plus a variety of routes down each run, which ensures there's plenty of replay value. Unfortunately, after downloading their update v1.01 and installing it on both devices, I lost my medal points and progress, which has dented my otherwise positive impression. If you're downloading the game for the first time, this obviously won't be an issue for you.