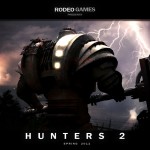 One of the coolest tactical turn-based games we've ever seen on iOS, Hunters: Episode One [$.99 / HD], is getting a sequel. Rodeo Games, the original creator of Hunters, have revealed with us that it is indeed working on Hunters 2. And guys, it sounds and looks radical.
Hunters 2, which is slated to hit Spring 2012, will build on the same combat that made the first game so popular, but it'll also throw in some notable new systems and weapons. For example, the team is dropping in a new mini-gun that fires blistering bursts of 10 rounds. That's especially hip, we're told, because it'll show off the game's new projectile system, which lets you see every round fired.
New enemies, environments, and mission types will naturally be part of the fresh package, but so will a fleshed out and scripted campaign mode featuring Rodeo's new hero character Caius Black. One of the promotional images we've received notes that he'll be "alone, wounded, and betrayed."
As if that wasn't enough, the game's engine has been scrapped in favor of a new one that'll integrate real-time dynamic lighting and "loads of customization options." Get a taste below:
Speaking of customization, that's something Rodeo is focusing on character-side, too. In Hunters 2, each Hunter will have a talent pool and you'll assign points in specific skill and build trees. Rodeo tells us that this system "really individualizes your Hunters and brings all sorts of new tactics" to the fold.
We'll be getting our hands on Hunters 2 in the coming weeks. If you'd like to try the original game, now is a great time — both versions are on sale now at $.99 instead of their usual $4.99 and $6.99 price points.