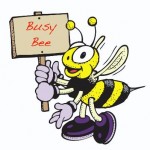 Holy jeez! We're pretty used to the typical Wednesday onslaught of new releases in the App Store, but today has been a truly insane undertaking. Between Batman making a surprise drop from the shadows and into the App Store with Arkham City Lockdown, the exciting OnLive iOS client finally seeing the light of day (soon anyway), and the normal barrage of new releases we usually see every week, it's been a wild roller coaster ride of iOS craziness. To top it off, Eli is out in Finland hobnobbing with The Mighty Eagle, ensuring that Brad and I are up to our ear balls in busy work.
It's all good though, as I arose from my normal coma-like state to spend some quality time with Batman, and Brad has been pumping out posts with the same vigor that I'd imagine he pumps iron with. At any rate, that should explain why you're seeing the Wednesday night release post on a very early Thursday morning, but that doesn't mean there aren't some great new title to check out on your iOS devices.
---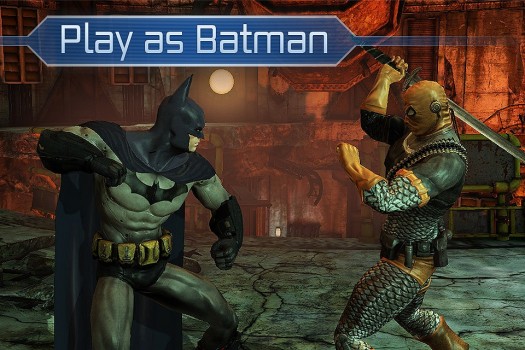 Batman Arkham City Lockdown, $5.99 (Universal) – Forum Thread – Warner Bros. and NeatherRealm Studios dropped this surprise release on us tonight, and after playing it for most of today I've grown rather fond of it. It's a one-on-one combat game with very mild Infinity Blade like mechanics, though not nearly as good. Still, it's brimming with Batman goodness and has a solid progressions system which has been keeping me coming back for more.
---
Mini Motor Racing, $1.99/HD – Forum Thread – We've had our eyes out for Binary Mill's top-down arcade racer since GDC back in June, and the final version looks even better than I remember. With several unique cars to drive, more than 20 tracks with day/night versions and weather effects, and enhanced visuals for iPhone 4S and iPad 2, Mini Motor Racing looks like it might live up to all my grand expectations.
---
Tank Riders, $1.99 (Universal) – Forum Thread – This is another game that I wasn't expecting, from Polarbit, the developers behind Reckless Getaway and Reckless Racing. It's a tank battling game that looks to me like a modern day take on the Atari 2600 classic Combat, complete with bullets bouncing off the walls into your opponents. Sounds cool!
---
Six Guns, Free (Universal) – Forum Thread – Gameloft's riff on Rockstar's amazing console title Red Dead Redemption. Six Guns gives you an open world Old West to explore, battle, and complete missions in. I would love to have a Red Dead Redemption-type of game that I can stick in my pocket, even if it is all Gameloft-y. However, I'm not totally sure how this game being free will hamper the experience, if at all, but I'm curious to find out.
---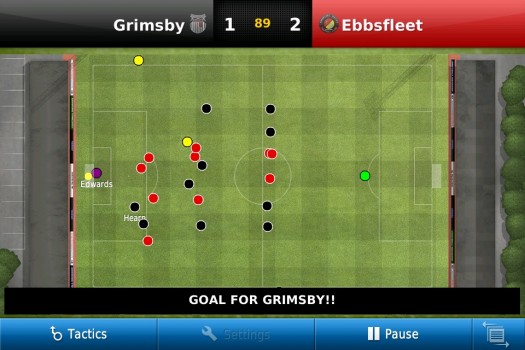 Football Manager Handheld 2012, $9.99 (Universal) – Forum Thread – Being an American, I'm not big into the footy scene, and to be honest I'd have absolutely no idea about the first thing to do when it came to managing a football club. However, Sega's Football Manager series has been incredibly popular, so I'm sure there are plenty of people out there who are stoked to have the latest revision on their iOS device.
---
Crazy Bomber, 99¢ – Forum Thread – I've honestly never heard of the developer of Crazy Bomber, Shanghai Joytech, but once I realized that the game was a Bomberman clone I knew I had to give it a download. It offers several different characters to play as, 60 campaign missions, and 12 multiplayer maps. Plus the art style is just killer. As an aside, the app description states that 4th generation iPod touch users should hold off until the updated 1.1 version since there appears to be an issue with that particular device, FYI.
---
Home Sheep Home 2, 99¢ (Universal) – Forum Thread – We basically loved the first Home Sheep Home, the puzzle game starring Shaun the Sheep from the British animated series of the same name. The sequel everything that made the first game so great intact, while adding 40 new levels in different locations, tons of collectible items, and extra difficult bonus levels. Best of all is it keeps the same great art style that I'm so fond of.
---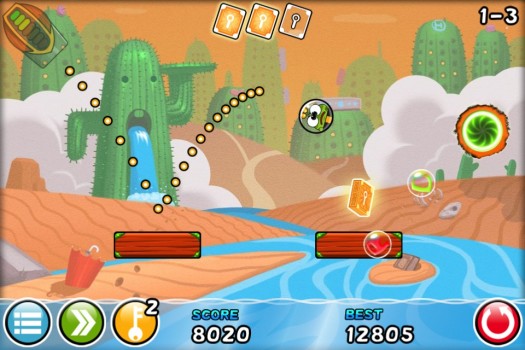 Let Me Out, 99¢ (Universal) – Forum Thread – Another week and another Chillingo published physics puzzle. I can definitely think of worse situations to be in. In Let Me Out, you play a tiny dragon who gets sucked into a book, and must launch and bounce his way through 100 levels over 5 environments, all the while collecting difficultly placed golden pages in order to get the best score possible and escape the literary prison.
---
Snow Fight, Free (Universal) – Forum Thread – Here's a pretty cool looking game. Sauce Digital's Snow Fight looks to be a real-time strategy title with line drawing mechanics, all wrapped in the guise of a giant snowball fight between children. Such a nice change from your typical war or space theme, right? It has 40+ levels, some great looking pixel art, is a Universal app, and is free to download and try with the complete game unlocked through in-app purchase.
---
Stretched, 99¢ (Universal) – Forum Thread – Oh my goodness, another Chillingo physics puzzler. Is this some sort of record for physics puzzler releases? It must be, but that doesn't mean that Stretched won't be another fun one, in fact, that looks to be the case. In Stretched you'll manipulate various environmental elements in order to get your rotund character to the end goal of the game's 84 different levels. Based on the video, it looks like there's some clever puzzle elements in this one.
---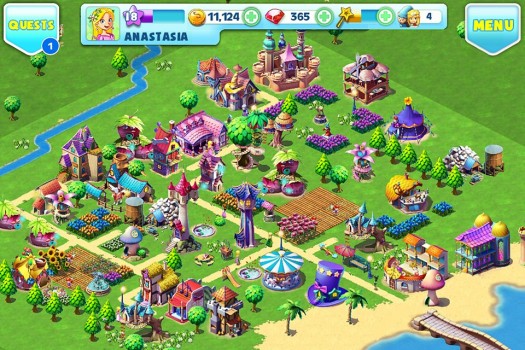 Fantasy Town, Free (Universal) – Forum Thread – A second Gameloft release, along with Six Guns. This one appears to be a Farmville clone, similar to their other Farmville clone Green Farm, but with a fantasy setting instead of farming. If that's the sort of thing that sounds interesting to you, then this one is free to give a download and try it out.
---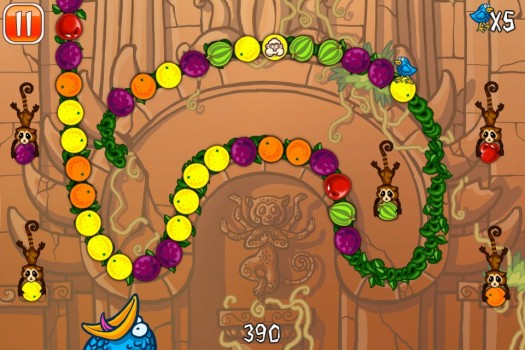 Fruit Tumble, 99¢ (Universal) – Forum Thread – Wow, just wow. While not strictly another Chillingo game, it's close enough as this one is brought to us by their sister company Clickgamer. Don't you people ever sleep?! Anyway, Fruit Tumble looks like a Zuma-style game where you must match colored fruits that are growing on various curvy vines. The difference here is that you're controlling multiple fruit shooters, represented by silly monkeys. Sounds good to me.
TXT Fighter HD, $1.99 (iPad Only) – Forum Thread – The iPad native version of last December's TXT Fighter, this oddball mixture of word game and one-on-one fighter is actually a really great blending of genres. It's crazy just how much this game is like a traditional fighting game with look and feel, except your moves are executed by typing words using the onscreen keyboard. I'd imagine the extra large sized iPad version is just as good as its smaller counterpart.