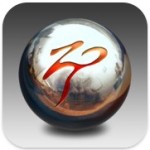 Zen Studios has previously released Zen Pinball, Marvel Pinball and Pinball FX2 for the consoles. But their latest release, Zen Pinball [Free] brings some of these popular pinball tables to the App Store. You can either play a single player game, or compete with up to four friends on the same device in "local hot-seat" (pass-and-play) mode.
Zen Pinball for iOS comes with one free pinball table, named "Sorcerer's Lair".  It's a fully functional table, without any restrictions or adverts, so it's a great opportunity to try the game. If you enjoy it, there's two additional tables (Captain America and Wolverine) available as in-app purchases for $1.99 each, with more tables promised in future.  Sorcerer's Lair  is my favorite of the three tables, so by downloading the free game you're actually getting one of the best.
The main controls are very simple: Drag the plunger back with your finger to release a new ball (hopefully gaining a skill shot), then tap the left or right side of the screen to master the flippers. The developers have nailed the pinball basics as the multiple flippers are responsive, the ball has a nice weighty feeling and the physics seem pretty good. You can tilt the device to nudge the table, but too much nudging causes your flippers to jam.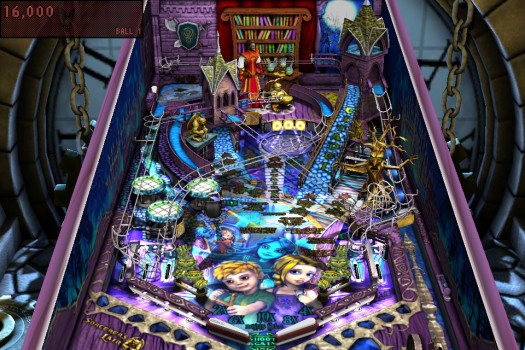 Some players will enjoy a casual bash with three balls to see how long they survive, but others will play more tactically by completing the table objectives. Zen Pinball has a built-in table guide, which explains the purpose of the targets, bumpers, loops, ramps and lights.  By hitting objects in the right order, you'll open sub-tables with different backgrounds, start various mini-games, release multiple balls or trigger animation sequences involving marvel characters, or a grumpy tree which gets angrier each time you use the ramp.
If your score is approaching an OpenFeint friend's best score, a message appears to make you feel superior. And you can compete on the team score rankings, which adds together your friends' pinball scores.  Game Center leaderboards and achievements are also available.
With eight different camera views provided, you can pick a height and angle which suits you, or hold down the view selection button to manually browse the table. My favorite view is #3 in portrait orientation, although the camera in view #6 tracks the action. There's also a  dot-matrix window at the top of the screen, which displays game stats and animations in the traditional dot-matrix style typically associated with pinball machines (you can determine the size of the dot-matrix window, or turn it off entirely).
The  2D and 3D table graphics and animations look great, and the super-hero themes are a real draw-card. Although, the colorful graphics are quite cluttered, so it's not always easy to differentiate the targets and background while tracking the speeding ball(s). Also, the game looks rather small on my iPod touch screen, which takes a little getting used to.
Some players have experienced minor stuttering and turned off the dot-matrix window to improve performance, but all three tables ran smoothly on the original iPad and 4th generation iPod touch for this review. The developers advise that Zen Pinball runs best on iPad 2, iPhone 4s and 4th generation, with iOS 5+ required. Other players report their IAP tables disappeared, forcing them to download them again (for free), but despite these issues most people in our forums seem to be enjoying this game.
Zen Studios plan to release additional tables for iOS, so we may see more super-hero themes come across from the consoles, such as: Fantastic Four, Spiderman, Ironman or Blade. In the meantime, the Sorcerer's Lair table is a bargain for zero dollars, so check it out. And if you try all three tables, jump into our discussion thread to vote for your favorite pinball table. So far Sorcerer's Lair is most popular, with Wolverine second.