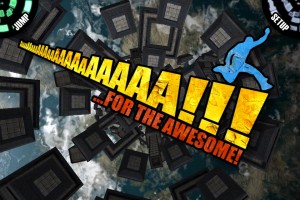 Boston-based indie developer Dejobaan Games has been pumping out unique titles for the PC and Mac since 1999. Due to the originality in their game designs, they've garnered quite a dedicated following of fans and have seen their fair share of accolades from the gaming industry at large. One of their most well known titles is 2009's AaaaaAAaaaAAAaaAAAAaAAAAA!!! – A Reckless Disregard for Gravity (or AaAaAA!!! for short, thankfully).
The gist of the gameplay in AaAaAA!!! involves base jumping from the top of a high-rise in an alternate version of Boston, and speeding towards the ground from a first-person perspective. As you're falling, you can gain points for doing crazy things like flying as close as possible to objects without hitting them, breaking through target panes of glass, hitting birds, spray painting graffiti on buildings as you whizz by, and more. We've definitely seen these first-person skydiving type of games before, but nothing really compares to the style and original ideas found in AaAaAA!!!.
(Trailer for the original AaAaAA!!! for the PC)
Ever since the release of AaAaAA!!!, people have wondered if the game might make its way to the App Store. The accelerometer and gyroscope capabilities of iOS devices seem like a perfect fit for a game like AaAaAA!!!. Earlier this year, Dejobaan revealed that a semi-sequel to AaAaAA!!! was in the works, and it was revealed recently that this game will be titled AaaaaAAaaaAAAaaAAAAaAAAAA!!! for the Awesome. And, as Dejobaan confirmed in our forums over the weekend, the game will indeed be coming to iOS.
First of all, Dejobaan has switched over to using the Unity engine to create AaaaaAAaaaAAAaaAAAAaAAAAA!!! for the Awesome, due to enhanced graphical capabilities and easier multi platform porting. Also, they've enlisted the help of fellow Boston developer Owlchemy Labs, creators of Snuggle Truck on iOS, to assist with getting AaaaaAAaaaAAAaaAAAAaAAAAA!!! for the Awesome humming away on the new Unity setup.
Unfortunately, there's no word yet on pricing or release date. Dejobaan is looking to add exclusive new levels to the iOS version, and while they're busy creating those they're working on the game for other platforms as well as other projects. Also, they're making streamlined audio for the iOS version, fiddling with the controls to get them just right, and banging away at optimizations in order to get AaaaaAAaaaAAAaaAAAAaAAAAA!!! for the Awesome running as well as it possibly can on the various iOS hardware.
So in other words, it might be a while before we see AaaaaAAaaaAAAaaAAAAaAAAAA!!! for the Awesome on the App Store. But hey, at least we know it's coming, right?
(Credit to PocketGamer who were able to nab these lovely screens you see above straight from an early build of the game)