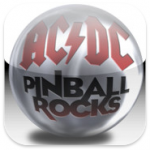 Any pinball fan reading this post can be no stranger to Gameprom and their quality iOS pinball collections, Pinball HD and War Pinball, and related, standalone tables. Last summer, the studio partnered with Sony Music Entertainment to add a little rock and roll to the pinball equation in the form of Slayer Pinball Rocks HD [App Store], a fast and furious Slayer-themed table. Gameprom has recently rekindled the Sony relationship to release AC/DC Pinball Rocks HD [App Store], a standalone table that makes you want to scream out, "Angus!"
The first thing you'll notice about AC/DC Pinball Rocks is that it's a pretty ornate table, over the top in a fashion that, I think, well fits the band. Arrayed about the table are various bits of AC/DC stage memorabilia, including the Rock 'N Roll Train, Hell's Bell, the For Those About To Rock cannon, and the Highway to Hell, itself. As you work the table, AC/DC tracks,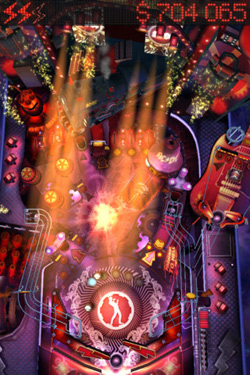 including "Thunderstruck," "Highway to Hell," and "You Shook Me All Night Long", play along with the action as pyrotechnics blast sparks across your screen. The occasional vocal quip from lead singer Brian Johnson can also be heard during gameplay.
As far as the table itself, it's quite a different experience from the fast-paced Slayer Pinbal. AC/DC Pinball Rocks features slower-paced ball action than the other rock title and notably lacks the two main bumpers typically found above a table's central set of paddles, leaving the center of the table pretty much wide open. This may seem to be the formula for a bland game of pinball at first, but after playing the game for a short while I realized I was able to be rather more strategic and precise on this table than most others. It's possible, on the AC/DC table, to aim for targets as distant as the far corners, thanks to the ball pacing and the open central area. That's really not something you can do on a more traditional table and makes for a non-typical game experience. What's more, the sides of the table are nicely busy, with elevators, lightning bumpers, and the mission-lending TNT bundle.
The main reason that the central area of the table is left open is the mini game that takes place there. There are three mini games in all, in fact. On the right side of the screen is a guitar mini-game featuring a small ball pin with paddles, while on the left is a mini-game involving the aforementioned stage cannon. The central area mini-game raises a barrier and challenges you to score in the lower portion of the table, ultimately in a mission to open the Trap Door to Hell. AC/DC Pinball Rocks is definitely more mini-game focused than any of the studio's other pinball offerings.
The game features both single- and dual-player modes and offers a variety of camera angles, just like Gameprom's other pinball titles that came before.

See an extended gameplay video here.
AC/DC Pinball Rocks HD is a fun table that definitely feels like Gameprom pinball. I won't call it my favorite of their offerings, but it's certainly worth its space on the iOS devices of any pinball fan out there.
Da Vinci Pinball Update
Another bit of news from Gameprom is a video posted a few weeks back that contains (among other previews) a brief walk-through of the incredible-looking upcoming Da Vinci Pinball table that we previewed back in August.
The Da Vinci table is expected to arrive as a DLC item for the studio's Pinball HD collection. It will be made available soon for both iOS and Mac OS X, and is one we're very anxious to get our hands on. Stay tuned for a close look.