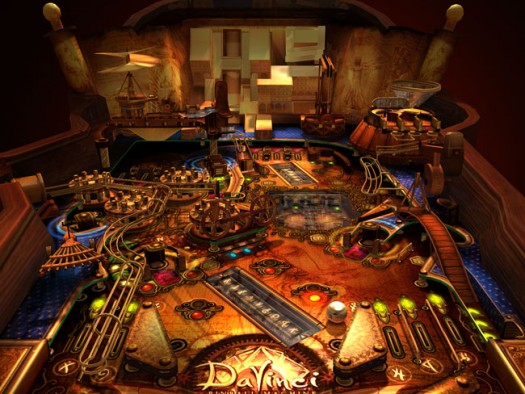 Gameprom, one of the leading developers of iOS and Mac pinball games, have just revealed their latest upcoming table: Da Vinci Pinball. They've released a bunch of new screenshots for the game on the Da Vinci Pinball website, several of which you can see above as well as in the gallery below (click to enlarge). Here's a quick blurb from Gameprom about the direction they're going with Da Vinci Pinball:

Coming Soon: Da Vinci Pinball – a celebration of the quintessential Renaissance mind! This new addition to the Pinball HD lineup features innovative mechanisms and artwork in honor of the great Leonardo!

Playing the game, you will travel along the great Renaissance Man's path of groundbreaking discoveries and inventions and navigate these wonders from within his very mind.
First off, I can't imagine a much better theme for a pinball table than all of the amazing creations of Leonardo da Vinci. The screenshots look gorgeous so far, with tons of interesting looking table elements that look straight out of the Renaissance era. Gameprom has let us know in our forums that Da Vinci Pinball will be a DLC item for their existing Pinball HD [99¢/HD/Mac] on both the iOS and Mac platforms. The table should be hitting sometime next month, and we'll be sure to check it out then.