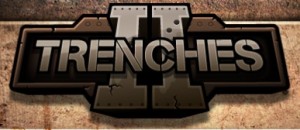 Thunder Game Works' Trenches [99¢/Free/HD] was originally released on Christmas Eve of 2009. It had all the core components of a solid side-scrolling field battling game, though the challenge was a bit out of balance and the campaign was a little too short. Over the next year or so, Trenches received an insane amount of update love, adding new modes, additional campaign elements and length, and robust cooperative and competitive online multiplayer modes through Game Center. What started as a good core concept that lacked finesse blossomed into a feature-rich strategy game with a near-cult following.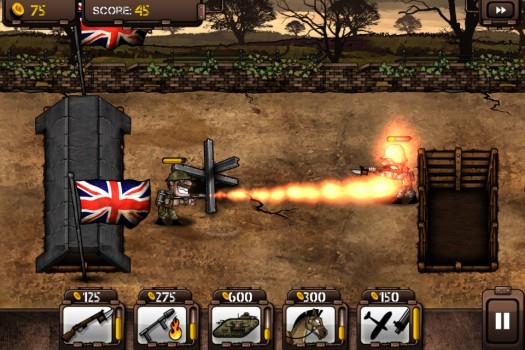 So, now that Trenches has lived a fruitful and full life, it only makes sense that a sequel is on its way. Thunder Game Works has teamed up with EA to publish Trenches 2, and it's coming sooner than you might think. The aim of this new entry in the Trenches series is to take everything that people loved about the first title and make it bigger and better. There's an impressive amount of features coming to the new game, which I will attempt to touch on.
Trenches 2 will launch with 3 factions, Britain, Germany and France, with American and Russian factions coming down the line in updates. Each of these nations will have an in-depth perk system with around 45 total perks each across 3 categories: Offense, Defense, and Support. These perks will offer things like additional vehicles and weaponry, troop stats, increased income, and more, allowing you to customize your chosen nation to your liking.
Thunder Game Works has listened intently to player feedback from the original Trenches, and is looking to address much of that in Trenches 2. One of the most requested features was additional unit types, so this time around you can look forward Cavalry, Spies, Medics, and Tanks all making an appearance, adding more depth to your nation's army. There will also be new off-screen support systems like an powerful railgun, a far-reaching cluster bomb, and aircraft support.
Of course, multiplayer is a huge aspect of the Trenches experience and it will be getting its own set of improvements in the sequel. Much of this will come from the additional unit types and customization options which slowly unlock during the course of single player. You'll be able to take your perk-laden army online to battle against other players worldwide, meaning no two armies will be exactly alike which should make for some dynamic showdowns.
Finally, the single player campaign in Trenches 2 has opened up include a non-linear world map. You'll be able to choose which specific cities to attack and try to overcome, and if you end up not being quite powerful enough to come out on top, you can choose to go after a less heavily defended city. Conquering cities will unlock perk points, which in turn allow you to access new features and weapons for your army.
Thunder Game Works has stressed that they're really trying hard to create a sequel that will appeal to their huge fan base, but still feel fresh and different, and introduce a whole new group of gamers to the Trenches world as well. It looks like they're on target to do just that, and we'll be eager to check out the final version of Trenches 2 when it launches on December 1st.