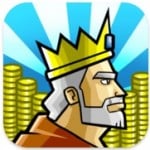 One of the pleasant surprises of last month's releases was King Cashing: Slots Adventure [99¢/Lite], the slot machine game with an RPG twist. I'm of the mind that you can throw experience bars and upgradeable weapons on just about anything and it will be a better game for it, and King Cashing is a great example of this.
You play as a King on a quest to rid the world of an evil being who's holed up in his dark castle. You progress through the game battle by battle, and combat is handled by a unique slot machine mechanic. Each wheel of the slot machine represents things like your party members, weapons, bonus items, and enemies. You'll give the 3 wheels a spin and stop them either individually or all at once. The things that you manage to line up horizontally across the wheels determines the actions that take place during the battle. It may sound strange, but it's actually a pretty ingenious idea, and it works beautifully in the game.
King Cashing is great because it's accessible enough that anybody who even has a passing familiarity with slot machines can pick it up and instantly be playing. But, for those interested in more, there is a good amount of underlying depth to the game with leveling up your party, upgrading their weapons and equipment, and trying to beat each battle as efficiently as possible in order to earn the the top medal.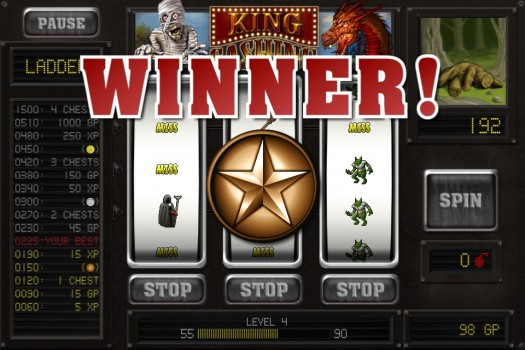 That underlying depth just got quite a bit deeper, as yesterday King Cashing received a fairly massive update. First of all, the game is now Universal, and although it looked just fine running on an iPad in 2x mode before, it's a lot nicer having the game properly formatted for the larger screen.
As for gameplay, the level cap has been raised to 25, so you can continue on progressing your party members if you had reached the cap before. Also, there are 9 brand new weapons in the game to collect and use. Something fun about these new weapons is that they were actually all named after members in our forums following a contest the developer held there. Just goes to show, it always pays to hang around the forums, as you never know when you might end up with your name in an indie game.
The biggest new feature of this update however is the addition of 3 brand new side quests. These aren't your ordinary battles though, and instead are dubbed rag doll battles. Here your enemy is a dummy, literally, and doesn't have any HP. Rather, the enemy health starts at zero and your job is to inflict as much damage as you can given your allotment of cherries, which are the currency used to spin the slots. The more damage you're able to inflict, the better the prizes you'll earn.
I absolutely love this mode as it's essentially using the exact same mechanics but in a completely different way. I just keep on retrying, over and over, trying to climb my way ever higher up the prize ladder. These rag doll levels feel like proper games you'd find in a casino, and I imagine if the game charged real money in order to play then I'd have a pretty empty wallet by now.
Other minor additions in this update include a new Game Center leaderboard for the third rag doll level to keep track of who does the highest amount of damage, as well as 2 new achievements tied into the rag doll levels and new assortment of weapons. And of course, there is a massive amount of bug fixes and minor tweaks here as well, which are detailed in the app description if you're curious to know more.
I'm really happy to see one of my current favorite games get such a great update, and if you weren't sure about King Cashing before then there's a brand new lite version for you to try on for size. Definitely at least give the lite version of this unique title a spin.