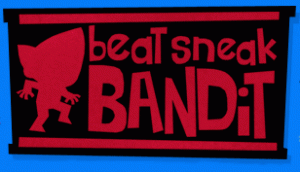 Wonder no more: after a fun mystery trailer Simogo has revealed its next game alongside IGN. It's called Beat Sneak Bandit; and as we guessed, it's a rhythm-cross-stealth game featuring all the adorable art your eyeholes can handle and a one-touch action model that appears to be as great as the one utilized in the studio's last game, Bumpy Road [$2.99].
In Beat Sneak, you'll play as the Beat Sneak Bandit as he reclaims all the clocks Baron Von Clockface has stolen and tucked away in his curious mansion. You'll move, er, sneak by pressing a finger to the screen in beat with the game's oddball music. The wrinkle here is that you'll also need time your timing in order to avoid roving guards or other things that can spot you and end your home invasion.
Simogo is one of the most creative App Store developers out there, so we're definitely stoked to give Beat Sneak Bandit a go. In fact, we've been talking with Simogo and it seems like we'll be able to give you a pretty good taste of what's to come in the very near future.
Oh! Speaking of the future, Beat Sneak Bandit will release at some point in early 2012 for the iPhone, iPod Touch, and iPad.
[Via IGN]