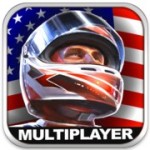 In early September, RedLynx brought us the sequel to 2009's innovative line-drawing racer DrawRace [$2.99] with the Chillingo published DrawRace 2 [99¢/HD]. This new entry in the series brought an extra level of sophistication with its realistic visuals and physics system, but kept the unique line-drawing aspect that made the original such a standout title.
You can read all about this in our review of DrawRace 2, but if you've still had reservations about if this unique type of game was for you or not, then today you have another alternative. RedLynx and Chillingo have just released DrawRace 2 Free Multiplayer [Free/HD] as a way to let you take the game for a test drive before deciding if it's your cup of tea.
As the name implies, DrawRace 2 Free Multiplayer focuses on the hot seat local multiplayer mode found in the full game. Two players can square off on the same device by each taking their turn drawing their race lines, then when the action starts, each player has their own turbo button situated in one corner of the screen. It's a fun way to get other people in on playing even when you only have one device around. Following a link inside the game which leads to a Facebook "Like" page will unlock the ability to play with 3 or 4 players in this hot seat mode as well.
If you're not really the social type, but just want to give DrawRace 2 a try, then that's not a problem. You can simply play the hot seat mode by yourself, taking the turn for all the players yourself. It's actually a pretty nice way to practice while giving yourself multiple tries to draw the perfect run. At the very least, it gives you a hands-on experience with the unique line-drawing mechanic, which is one of those things that's hard to explain but easy to pick up on when you're actually trying it yourself.
The free version offers 3 different course to try and 3 different vehicles. If you like the gameplay, the full version of DrawRace 2 offers a ton of campaign content to play through, as well as both local and online multiplayer modes, plus many more vehicles and tracks. If you've been sitting on the fence with DrawRace 2, definitely give the free multiplayer version a try to see what you've been missing out on.