It was just last week that we were singing the praises of Mika Mobile's Zombieville USA 2 [99¢] in our review and discussing it further on our latest podcast. But already, Mika Mobile has released an update to the game which fixes a few bugs, makes some adjustments, and adds a new playable character.
The first major improvement is to the control wheel. The touch radius has been increased significantly, which means that should your thumbs slide beyond the visual boundaries of the control stick circle, then you will still continue to move in the direction you are pushing. Previously, if your thumb went beyond the control stick your character would stop dead in its tracks, causing all sorts of trouble.
Another chief complaint about the initial release of Zombieville USA 2 besides the control stick was the lack of loot drops from enemies. The times that a zombie would drop off some coins for you to collect in the release version of the game was few and far between. A much more reliable place to gather loot was in the destructible objects peppered throughout each level. This led to some people actively avoiding killing zombies in favor of running through more of each level in order to run into treasure producing objects.
Seeing as killing zombies is a major facet of the game, Mika Mobile has balanced out this issue by making sure that zombies will drop money much more frequently now. They've also increased the overall rate that money is earned, and have double the amount of cash that drops on a level during co-op play to compensate for the extra player.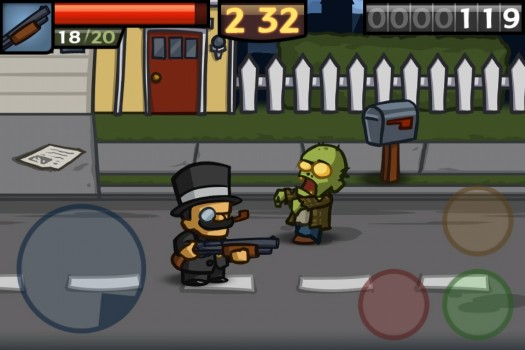 Joining the already impressive lineup of playable characters in Zombieville USA 2 is the new Tycoon, a dandy looking gentleman who resembles a 19th century philanthropist. Word is that the Tycoon is planning on opening up several businesses in Zombieville, but must first rid the streets of the actual zombies to make room for a railroad, bank, and oil rig.
Finally, Mika Mobile has found and rectified a couple of rare but nasty bugs that might have lost your iCloud date or caused the game to crash. It's nice to see these various issues addressed so quickly after the release of Zombieville USA 2, and I'll be looking forward to what's in store with future updates.