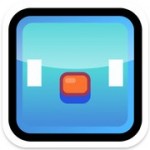 Big Pixel Studios, creators of the adorable physics puzzler Land-a Panda [99¢/HD/Lite HD] and the cat-tastic dual-stick shooter Meow Meow Happy Fight [$2.99/HD], have temporarily dropped the price of one of their other major titles, Piyo Blocks 2 [Free]. A sequel to the original Piyo Blocks [99¢/Lite] that was released in 2009, Piyo Blocks 2 takes everything that was great about that first game and improves upon it, resulting in one of the most enjoyable match-3 games around.
I know what you must be thinking, "A match-3? Seriously? I am like, SO over that", and normally I'd totally agree with you. Except that Piyo Blocks 2 just happens to be my personal favorite match-3 out of them all (just slightly ahead of Gemmed! [$1.99/Lite], in case you were wondering), and if you don't already own this game then downloading it while free is a mandatory action. There really isn't a more feature-rich match-3 game available on iOS.
First off, you have 6 different modes for your single-player pleasures, each utilizing a slightly different set of rules or visuals based on the core match-3 mechanics. Each mode is quite fun in its own way, and there's heaps of Game Center/OpenFeint achievements and leaderboards to keep you occupied as you get your match on while solo.
However, one of the coolest things about Piyo Blocks 2 is that it contains multiplayer. You can go head-to-head against somebody close to you by way of Bluetooth or a local WiFi network, or you can jump online and play people from across the globe. In fact, that is part of what spurred this freebie promotion, as Big Pixel wants to enlarge the player pool for online matchmaking. There's really no better way to do that than to lower the barrier of entry to free.
This trailer is a bit outdated as far as listing some of the features, but it should give you an idea of what you're in for after you download Piyo Blocks 2:
In addition to all of the above mentioned features, Piyo Blocks 2 was also just recently updated with Retina Display support. This is something I had been hoping for for a long, long time and it pleases me to no end to see all the little Piyo blocks in such crisp resolution. Big Pixel Studios are known for their wonderful sounds and visuals, and Piyo Blocks 2 is no different. In fact, I would suggest downloading the game for the soundtrack alone, as it is dangerously catchy and gets stuck in my head on at least an every-other-day basis.
I understand that there are a ton of match-3 games out there, and with so many options which one ends up being your favorite largely depends on personal preference. That said, Piyo Blocks 2 earns top spot for me, and I really can't recommend it enough. Make sure to snag it while it's still free, which should be at least another day or two.