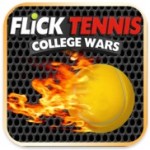 When Top Spin was released for the original Xbox, I became an instant fan of tennis games. I would crank up the difficulty to max and give myself bad stats and play the top players, just to make it more challenging. But until recently my iOS device had no tennis games installed, even though there's a few out there.
Flick Tennis: College Wars [99¢ / HD / HD Free] by Rolocule has come to the rescue, providing me with a challenging touch-based tennis game to conveniently carry in my pocket. The iPad version was released in August, but this review is based on the iPhone version, which has just come out. And I'm really enjoying it, because although it starts out pretty easy, the later matches are challenging and can be real nail-biters.
Three modes are provided: Story, exhibition and head-to-head multiplayer. Unfortunately, there's no tournament mode, which would have worked perfectly with this game, although story mode does tie multiple matches together in a sequence.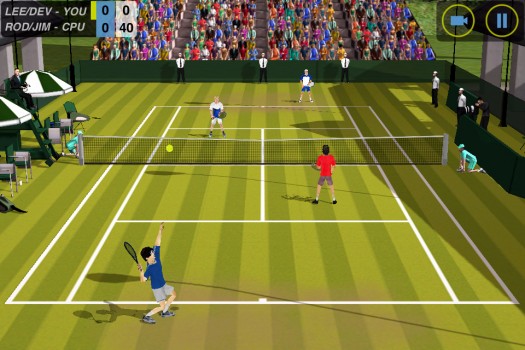 In story mode, you play the role of Kevin Adams, a talented young tennis prodigy who wants to succeed on court to make his wheel-chair bound father proud and to be selected for the college / university team.  Kevin's story spans 11 episodes, with 35-pages of comic-based cut-scenes between episodes (ie: about 3 pages worth per episode.)
Comic-strips and tennis are not an obvious combination, but the simple storyline works nicely enough, painting Kevin as an under-dog and explaining his motivation to win each particular match. If you're not interested in the storyline, it's easy to skip through the comics quickly to focus on the tennis. The story episodes include both single and multiplayer matches of increasing difficulty. By playing through the episodes, you unlock players, courts and subsequent episodes.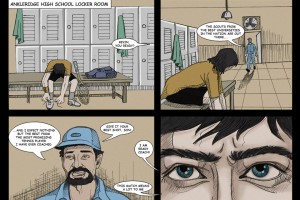 Exhibition mode includes singles or doubles matches. The doubles matches include an AI-controlled partner for you to play with. This introduces the additional challenge of ensuring the court is always covered by the two of you.  In multiplayer mode two players square off on the same device, taking turns at swiping. I didn't try this mode with another player, but it would probably work better on the larger iPad screen.
The AI opponents play intelligently, with four different styles of play (Defensive baseliner, aggressive baseliner, volleyer and all-court players). The help screen explains the traits of each style and lists some real-world examples, listing Pete Sampras as a volleyer and Roger Federer as an all-court player. The opponents also have a skill level, ranging from beginner to professional. There are 11 courts (including grass, clay and synthetic) starting with practice courts with bird noises, to sports stadiums with an appreciative applauding audience. And an umpire announces the score verbally, which adds to the tennis atmosphere.
Flick Tennis is totally designed around swipe controls, so there's no joystick or buttons cluttering the screen. You can do four different shots by swiping your finger. The basic ground-stroke is done by simply swiping upwards in the direction you want to hit the ball. The accuracy of the shot depends on how close you swipe from the position of the player and the timing. If you swipe too early, the shot will be inaccurate, but swiping too late will cause you to miss the ball entirely. Swiping downwards does a drop-shot, which is effective if the player is hanging back at the baseline.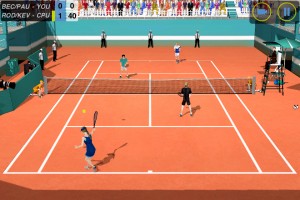 The other two shots require two-finger swipes. A slice is done by swiping two fingers upwards. While a two-finger downwards swipe lobs the ball, which is useful for hitting the ball over a players head when they've cheekily approach the net. But be careful, because if you lob to a player at the baseline, he (or she) might SMASH the high ball back at you. Likewise you can smash it if you receive a lob in the right court position. Each of the four shots is drawn on the screen in a different color, to confirm your chosen action.
The one finger swipes are easy, but it took a little practice to nail the two finger swipes. Once you recognize that the first finger to touch the screen will draw the line, it's a lot easier to play accurate shots more consistently. Plus, there's an interactive tutorial which introduces you to the four different swipes. It also explains that you can tap the screen to walk in that direction, however the player will automatically run to the ball by default, allowing you to focus mostly on the shots unless you specifically want to run to the net, baseline, center or sides. One cool feature is that if you're running, it has a bearing on the shot, so if you draw your line early, you need consider where you'll be standing by the time you swing. Often it pays to aim a little in-court just to be safe.
A few general observations: Firstly, when two players are both at the net, the ball is sometimes hit backwards and forwards several times rapidly, with multiple sound effects in quick succession, which never occurs in real tennis and ruins the otherwise tennis-like atmosphere (only happens rarely). Secondly, there's no leaderboard or achievements, which is desirable in a competitive sporting title. My skills deserve some recognition! And lastly, the lack of tournament thing I mentioned earlier.
Flick Tennis: College Wars is a welcome addition to my iPod Touch and won't be deleted any time soon. The controls work well once you've mastered them and it's a blast to swipe a variety of shots, making the opponent run around the screen, just like I used to on the Xbox. Or some of the time I'm getting thrashed, but either way, I'm loving it. The game is currently on sale through today only, so don't hesitate to grab either version of the game for 99¢ before they return to their normal prices of $1.99 and $3.99.