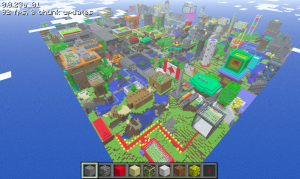 Minecraft is coming to Android really soon — like, September 29 soon. Earlier this morning, creator Mojang announced that the portable version of its eternally in-the-works tunneling / LEGO game is hitting capable Android phones just before the month closes. Previously, the title was shackled to the Xperia Play as part of an exclusive.
Oh! And it also showed off how the game will control. Basically, movement is confined to two virtual interfaces: a huge d-pad and a disappearing reticule. The d-pad is responsible for walking and strafing, while the on-screen reticule (which will be activated by flicks) is how you'll alter the first-person perspective. All other core actions, like, say, breaking blocks, is managed by direct touch interaction with that object. Here's a little explanation in video form:
Minecraft – Pocket Edition looks like a fantastic Twister experience, so we're stoked to get our hands on it. Pocket Gamer reports that the iOS version still doesn't have a date, but it's slated to get out of the door before 2012.
[Via Pocket Gamer]