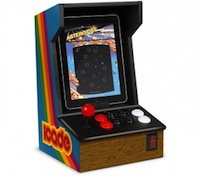 We've been working pretty hard in the background on the site this week preparing a cool and helpful new way to discover iCade games: toucharcade.com/iCade. We're using this now instead of our front page in order to give you a much more comprehensive look at quality titles that support the device. As you'll see, each game has its own "blurb" as well as links to relevant content, including its original review, its "iCade Angle" write-up, and its forum thread.
That page will forever be a work in progress. Not only are older games rolling in support, but so are fresh games. You can click "refresh" on it to your heart's content, but we'll also do round-up posts every once in awhile pointing towards the new additions.
Speaking of that, actually, several games have added support for the iCade. Here's a small listing of the games we've added since you last saw our list:
Orange Pixel
Claymore Games
Angry Mob Games
Llamasoft
If you know of other awesome games that support the iCade or if you're a developer of an iCade-supported game, feel free to visit our support thread and add your game to the growing list. We'll catch it and definitely roll it in. Oh! And just as a house-keeping note, here, Orange Pixel says its Meganoid [$1.99] is also iCade ready, but as of right now, the support doesn't work.
UPDATE: Deflex removed.