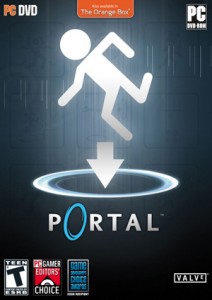 Before anyone takes up their recently sharpened pitchfork to form up the angry mob that materializes whenever we post non-iOS related things on TouchArcade, consider this: We're all gamers here, and we all likely have a computer that we're syncing our iOS devices to. So, put that machine to work and download Portal this weekend. As part of Valve's Learning With Portals educational program, they've dropped the price of this classic computer game to free.
Sporting a 90 average (and a 9.6 user score) on Metacritic, Portal is a game that I think everyone who even vaguely considers themselves a gamer flat out needs to play. Hell, it's enjoyable enough that even if you're a non-gamer you'll likely still have fun with it. Portal will only take a few hours for you to complete, and, in my opinion, is one of the best single player computer gaming experiences I've ever had. The atmosphere is perfect, the puzzles are fantastic, the writing is top-notch, and the only complaint I've ever even had about Portal is that the game eventually ends and really leaves you wanting more. (Good news! There's a sequel!)
Portal was originally released in 2007, and runs on Valve's Source engine which is great at supporting all kinds of hardware configurations. If you've bought your computer inside of the last five years (or maybe even older than that) I'd think it would run Portal just fine. To get the game, install the Steam client, create an account, and then install Portal. The whole process should be fairly easy, and aside from actually downloading the game itself, should only take a few minutes.
Even if you don't have time to play this weekend, you can still grab the Steam client and download the game. There's really no reason not to. I cannot possibly overstate just how great of a game Portal is.
Anyway, this deal runs through September 20th, and you've seriously got to have a killer excuse if you don't take advantage of it. (Assuming you don't already own or have already played Portal.)