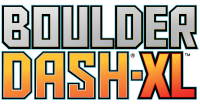 Excuse our tardiness on this one. Boulder Dash XL, the recent Xbox Live Arcade re-make of the classic coin-op game, is coming to mobile, the parties involved in the port announced earlier last month. Specifically, the title will see re-releases across Windows Phone 7, Android, and more relevant to our interests, iOS at some unspecified date later this year.
From what we gather, Boulder Dash XL on mobile isn't slated to be an overhaul, which come to think about it, doesn't seem like a bad thing at all. Provided touch control is implemented in a smart way, the rest of the game should translate pretty well. Developer Herocraft has been pegged as the studio behind this port.
"We're huge fans of the original Boulder Dash and are thrilled that we have the opportunity to bring this game up to date with stunning new graphics for the latest cutting edge smartphones and tablets," Herocraft's marketing dude Alexey Sazonov said in a statement.
The media generally liked Boulder Dash XL when confronted with it on the fringe of the Summer of Arcade despite some audio and technical problems, so we're pretty excited to see it on our platform of choice. Also, it should scratch that horribly distracting retro itch that we have if the port comes through unscathed.
[Via Pocket Gamer, GamePro]