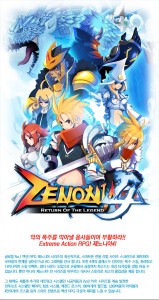 Need more Zenonia in your life? You know publisher Gamevil doesn't have a problem with fulfilling that steamy desire. A fourth game in the RPG series — apparently dubbed Zenonia 4: Return of the Legend — is indeed coming down the pipe and a member of our message board snagged the first images we've seen of the iOS version in action.
Say what you will about the series' old-school design and approach to the genre, but you've got to admit that the art direction on display is top-notch. Hit up the thread to see the other three images, but also be aware that they're obviously marketing materials.
Our mysterious poster doesn't know when the game will arrive in the US or at what price, but he or she does seem confident in a couple of features. Zenonia 4 will probably feature retina display support, as well as "thousands of costumes, upgradeable items, and rare items," they said in the post. As if you didn't already spend enough time with Zenonia in the first place, right?
We'll obviously keep our all-seeing eye on red alert and our all-hearing ears to the ground for official announcement and even more assets, so stay tuned.