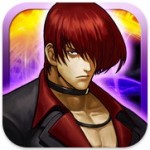 This past July, SNK Playmore surprised everybody by releasing The King of Fighters-i [$4.99], a mobile version of their popular fighting series, into the App Store. Until that time, Capcom's Street Fighter IV Volt [$6.99] had been the pinnacle of touch screen fighters, but just like the 90s arcades that I grew up in, King of Fighters gave Street Fighter a worthy opponent for the title of best iOS fighting game. We gave the nod to The King of Fighters-i in our review, but just barely, and in reality both titles are extremely evenly matched when it comes down to gameplay and features. It really may just boil down to personal preference which one you like more, or if you're like me, you just play and enjoy both. Problem solved.
Anyway, The King of Fighters-i has just gotten even better with a brand new update that adds 6 new playable fighters as well as an interesting new Challenge Mode. The new fighters are Iori Yagami, Mature, Vice, Elisabeth Branctorche, Shen Woo, and Duo Lon, bringing the total character count to 20, the same as in Street Fighter IV Volt. I'm not as familiar with The King of Fighters series' characters as I am with the Street Fighter ones, so I don't have any real attachment to any of these new additions, but I am pretty stoked to have 6 new people to learn how to use.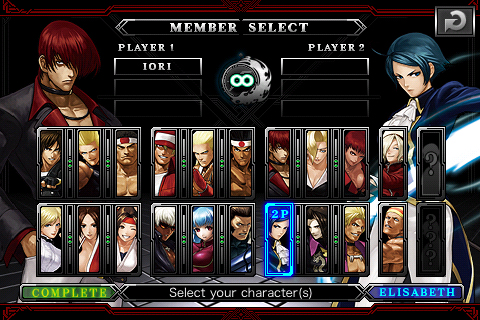 The next big addition in this update is a single player Challenge mode. Here you are given a list of tasks to complete using whichever character you want. You can earn extra coins in this mode to spend inside the in-game shop on various bonus items like collectible cards or gallery art. The selection of these items has also been expanded as part of this update. Challenge mode is a bit similar to Street Fighter IV's Dojo, and is a cool way to spend some time with the game solo when you don't feel like playing the regular Arcade mode ladder of opponents.
Finally, to celebrate this latest update SNK Playmore has slashed the price of The King of Fighters-i from $7.99 to $4.99. If you haven't yet, now is a great time to grab one of the two best fighters on the App Store in The King of Fighters-i, now even better following this pretty awesome update.