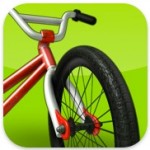 In further BMX-related news this morning, those handsome Swedish chaps from Illusion Labs have gone and made their multitouch masterpiece Touchgrind BMX [$4.99] Universal in a brand new update. Touchgrind BMX launched back in May and we liked it a whole bunch in our review. It retained the same impressive technological aspects of the original Touchgrind [$4.99/HD] with its 3D visuals and smart use of multitouch, but offered a much more varied set of levels to perform your tricks and a much more favorable behind the back camera angle.
The Touchgrind BMX berry only became more plump and juicy with updates that we detailed when we sat down with Illusion Labs at WWDC this year, namely proper Retina Display visuals and TV-Out support. Now you can add Universal iPad support to that list as well, and this is actually the very first Universal game from Illusion Labs. I wouldn't mind seeing this trend continue.
Like the iPad version of the original Touchgrind, Touchgrind BMX isn't just blown up to fit the larger size of the iPad screen. Since your fingers remain the same size no matter how big the screen is, then the bike models on the iPad need to remain pretty much the same size as their iPhone counterparts. This means that the game can be played in landscape orientation on the iPad without any compromises, and in fact, this opens up a whole new wide angle that lets you see way more of the environment. Check out the two screenshots below from each version of the game to see the drastic difference:
Other than the expanded gameplay angle, everything appears to be pretty much the same with Touchgrind BMX on the iPad. It feels great having a large surface to use for the multitouch gestures, and I definitely don't feel like I'm blocking the action as much which I occasionally feel with the iPhone version. Best of all the Universal update is free for existing owners, which means there's no separate HD version to worry about. Shame you can't sync your progress between devices though, but I guess you can't have everything.
If you're a Touchgrind BMX'er with an iPad then definitely grab this latest update, as I think you'll be pleasantly surprised with just how great the game feels on the larger screen.