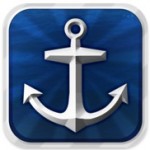 Back in the Summer of 2009, Flight Control [99¢/Lite/HD] had just sparked off the line drawing craze in the App Store. But before the market was completely flooded with "me too" clones that brought nothing new to the formula, Imangi Studios had released Harbor Master [Free/HD], a line drawing game very similar to Flight Control but with its own unique twists.
Obviously, the premise in Harbor Master differed by having the player direct boats into docks rather than planes onto landing strips, but it went a bit deeper than that. Boats that were destined for particular docks came in various sizes and speeds, and you'd need to wait for the ship to unload its cargo before directing it out of the dock to make room for a new ship. This small change added a whole new level of strategy and frantic gameplay, and Harbor Master has remained a favorite in the line drawing genre around the TouchArcade headquarters since its release.
Over the past couple of years, Harbor Master has received a good amount of update love from the developers, adding in Retina Display graphics, a separate iPad version, Game Center integration, and a novel rewind feature that let you back things up if you made a mistake.
Now, for the first time ever, the price of Harbor Master has dropped to free for the day. If you've somehow managed never to pick up the title yet, now is your chance to jump on it for zero dollars. There's also the iPad version Harbor Master HD which has always been initially free and is supported with additional premium features through in-app purchase. No matter which version you end up with, make sure not to miss out on one of the best line drawing games in the App Store during this limited free promotion of Harbor Master.