The eagle-eyed gamers over at Technabob have noticed an interesting little tidbit of information given with the latest update description to Atari's Greatest Hits [Free]. Along with the typical bullet points of optimizations and improvements was a line declaring the game's compatibility with the "official Atari Arcade – Duo Powered joystick". Say what? Thankfully, Atari doesn't leave us hanging with just a cryptic hint and actually provides a link to a product page for said joystick, along with the following promo image: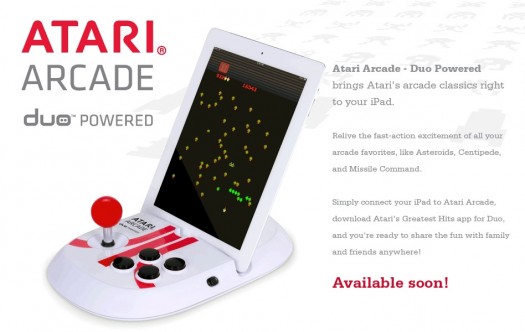 As you can see, this Atari branded arcade stick is an idea similar to the iCade, which we're huge fans of and has been seeing increased support since release, but is a much more minimalistic design. This appears to make it more practical for portable use as well as more conducive to operating with an iPad in landscape mode, which the iCade isn't designed for but can still pull off somewhat sloppily with some iPad leaning trickery. Technabob also ventures to guess that the streamlined design will lead to a lower price point than the $99 dollar iCade, though pricing and release date haven't yet been announced.
One more question is whether the Atari Arcade joystick will function via Bluetooth like the iCade and iControlPad peripherals do, or whether it will somehow connect directly to the proprietary dock connector on the device. Currently, all there is to do is sit back and wait for the Discovery Bay Games website to update the product page for the Atari Arcade joystick with additional info, which we'll most certainly be keeping our eyes out for.
[Via Technabob]