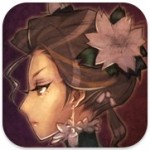 The Secret of Chateau de Moreau [$4.99 / Lite] by 4:33 Creative Lab is an entertaining adventure game, which is quite similar to Phoenix Wright [$4.99] / Review], which has heaps of fans here on TouchArcade. Both of these games are interactive story-telling adventures, where you make decisions which determine the outcome. If you love Phoenix Wright, or murder mysteries, you'll probably enjoy this game as much as we do.
You play as Antoine, the step-son of the wealthy Count Moreau, who has died under suspicious circumstances and now you're the main suspect. Antoine must investigate the crime, solving puzzles along the way, to prove his own innocence. The story is captivating, almost like reading a book, except you're an active participant in the drama.
This is a "who dun it?" murder mystery, with back-story and a decent cast of suspects. I've met 14 characters so far, including family members, a maid, a nanny, an engineer, a house guest…and yes, there's a butler.  Maybe he did it? Maybe he didn't? Perhaps I did it? That's what makes this game so much fun.
There's three different types of gameplay. Sometimes you walk your character around a floor-map of the Chateau, searching rooms for objects, using objects or presenting them to people. During your investigations you'll uncover topics of interest, which are recorded as clues. Once a clue is revealed, you can question the various characters about it and use objects to resolve that clue.
The second type of play is when you present your evidence, at the appropriate times, to solve the mystery. It's this part of the game which is most like Phoenix Wright. If you don't respond to the situation correctly, you might fail to prove your innocence. You're given five candles (lives), which extinguish each time you make a mistake. There's 40 alternate endings, which are presented in this game like achievements. So, in addition to completing the story, you can also try to reveal the other 39 endings.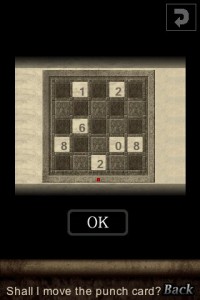 The third type of gameplay involves puzzles to solve, such as opening an object, entering a code, or putting things in the right position. The developers advise there are over 100 puzzles, so I'll take their word on that.
If you haven't seen Phoenix Wright you may be unfamiliar with how this story is presented. Basically, static images of locations and characters are presented in cartoon format, sometimes with slight animations or flickers, along with subtitles for speech (white text) or thoughts (blue text). Meanwhile,  sound effects and music help create atmosphere. At times, you're forced to tap through several lines of dialog and my only criticism is that this is a bit boring if you're repeating a section, which may put some players off seeking all 40 endings. There's also the occasional line of strangely structured "foreign English" but generally the story-telling is fairly decent.
The controls vary, depending on your position within the game. When dialog or thoughts are presented, you tap to progress. Questioning involves selecting a question from a list. When you're walking around the floor-map, you tap a point to walk there, or tap the "Open Door" button. To search a room, you tap on specific items within the room. And there's buttons to access your inventory, clues, question someone, present an object or switch to move mode, to explore.
During the game, you discover time potions (which rewind time, to let you do things differently) and 'Water of Blessing' (which reveals any hidden mysteries while searching a specific room). These two items can also be purchased as In-App Purchases (IAP), but that's not really necessary.
The Secret of Chateau de Moreau is a really well-designed, nicely-paced game, which captures your attention quickly and makes you want to play detective, searching for clues and solving puzzles, right up to the dramatic reveal at the end. If you love Phoenix Wright, this purchase is an absolute no-brainer – just do it. And if you're not sure, take the lite version for a quick spin, but do it quickly, before someone else gets murdered!