We had nothing to go on when EA announced its intentions to port Bullfrog's theme park simulation game, Theme Park, other than "Hey, a Theme Park game is happening." As usual, the big ticket marketing machine over at the publisher covered up some of the holes at an event. Earlier this week, EA debuted the title at gamescom in Cologne, Germany, revealing that it's a full re-make of the original game, complete with a new payment model, new look, new mechanics, and new rides involving EA franchises like Mass Effect and, somehow, even Dragon Age.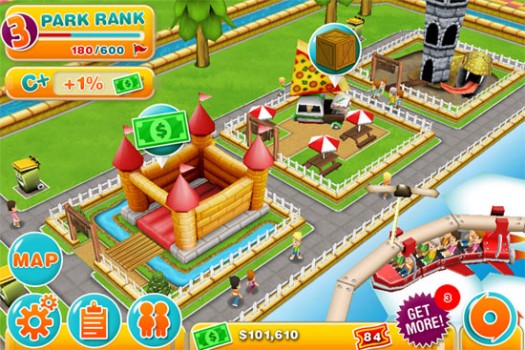 Digital Spy grabbed the first image we've seen on the Internet, and also had a few specific details. Take this one for example: not only will you be able to build your theme park with in-game money, but you'll also be able to purchase more in-game money with real-life money. Also, the rides you build will apparently be interactive; the report cites being able to move around pirate ships or prod air-filled castles. I have a feeling the interaction will be strictly limited to basic animations, but hey, I guess we won't know until we see a full build in some shape or form.
Speaking of builds, the game won't see a final release until this holiday, but it'll come with all that fancy Origin stuff we heard about earlier this year. Right now, it's slated to hit a $0, which makes us think that the F2P stuff is going to roll a lot deeper than in-game currency.
[Via Digital Spy, @robfunnell7]