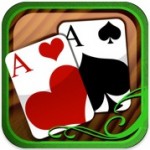 Sometimes it seems as if there's nothing more ubiquitous than a game of electronic Solitaire. Even a quick glance at the App Store will yield pages upon pages of Solitaire titles of every kind of variation, theme, and quality. With this much competition new players to the field are going to have to distinguish themselves in order to earn the attention of gamers looking for a Solitaire fix. Solitaire by Backflip [Free / HD], one of the latest entries in the overcrowded Solitaire field, doesn't particularly offer anything that hasn't already been seen in this sub-genre. However, what it does offer is a solid card experience with incentive to continue playing, provided you aren't put off by the prevalence of in-game ads.
You won't find a multitude of different types of Solitaire in this title. Rather, Solitaire by Backflip only has 1 and 3-card draw. In addition, you can either play with 'Normal' or 'Vegas' rules (the latter only allowing you to run through the whole deck only once before the game ends). Solitaire also has four different themes, two of which must be unlocked by collecting a certain amount of in-game coins that are earned by making successful card moves and completing a whole game. While the coin amounts for unlocking the themes did seem high, by my calculation you'd have to win approximately 10 games on normal rules in order to earn enough coins for a theme unlock, which seems fair enough to me. Of course, additional coins are available as IAP should you decide you don't want to play the game.
In addition to unlocking themes, players can use the coins earned while playing Solitaire to unlock a wide variety of 'prizes.' The prizes earned are little more than random items from Backflip's various other games and don't affect the gameplay in Solitaire at all.  If you're a fan of Backflip Studio's other iOS titles, some of the objects you can buy may actually have some meaning for you. If not, at least there are plenty of items to work towards for the collectionists out there.
If unlocking themes and collection items isn't your fancy, Solitaire by Backflip also allows you to spend coins on a variety of cheats to help in your quest for card-playing domination. Cheats range from taking a peek at the next card in the deck, to being able to move any stack to an empty space on the field. Personally, I don't understand why anyone would want to cheat at a game of Solitaire, but it certainly does offer some diversity to the playing field.
The only glaring issue I have with Solitaire by Backflip is the frequency of ads throughout the game. Banner ads adorn the gameplay screen and the main menu, with an occasional full screen ad as well. It's not so much that the ads necessarily detract from the actual gameplay, but just that the majority of them look ugly and out of place when contrasted with the crisp retina-display graphics of the actual game. Thankfully, an IAP exists to eliminate all ads.
It's pretty obvious that Backflip Studios positioned Solitaire as a sort of free gateway to the rest of their titles. However, if you look past this, you'll discover a game with well-done visuals and a system in place that at least keeps you coming back. The ad placement (and quality) definitely serves as distraction to the rest of the game, but they can easily be removed if you decide it's worth playing for the long haul. Just don't go into Solitaire expecting it to be anything more than it is, and you should have a decent time.