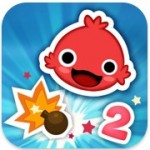 Way back in September of 2009, Godzilab released iBlast Moki [Free/Universal], a game that quickly caught the attention of physics puzzle fans everywhere. iBlast Moki went on to earn accolades from just about every corner of the gaming world, including several Game of the Year awards as well as our own 4.5 star review and inclusion in our Best of 2009 Buyer's Guide. With the success of the original iBlast Moki, a sequel was pretty much a given, and indeed we learned earlier this summer that one was in production.
Following up on that kind of breakout success isn't always easy though, and I've been disappointed on more than one occasion with a sequel to a game that I absolutely loved. With iBlast Moki 2 [99¢/Universal], this is not the case, not even close. Godzilab has taken everything that made the first game special and made it bigger and better in every way. There's also an improved social aspect which allows you to check your friends solutions to the single player levels as well as share levels created using the robust level editor. iBlast Moki 2 is truly the whole package, and is the epitome of what you'd want out of a sequel.
The gameplay in the original iBlast Moki was simple, at least on paper. The goal of each level was to get tiny creatures called Mokis into a portal-like end goal. The catch was that you didn't have direct control over the Mokis themselves. Instead, you needed to strategically place bombs around the level to literally blast the Mokis towards the goal, with various other items and a solid physics system there to help you along the way. One of the key components was the ability to control when bombs would explode, and some of the more elaborate levels involved ping-ponging Mokis across a series of well-timed blasts into the exit portal.
iBlast Moki 2 smartly keeps this core gameplay intact, but it also brings a bunch of new elements into the mix that force you to use an entirely different set of strategies to be successful. Shortly after beginning the game, you're introduced to one of the biggest changes: paint bombs. These little guys explode and spread their insides all over whatever surfaces are within their blast radius, giving those surfaces different properties like acceleration, bounce, or stickiness. Just this tiny change alone transforms how you tackle the game, as you'll need to use the landscape itself in unique ways to get your Mokis to their goal.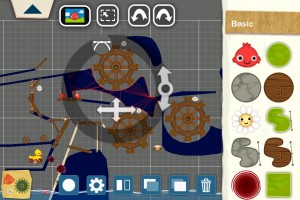 Things don't stop there though, as there are a ton of other items you'll need to utilize as well to complete each stage in iBlast Moki 2. Ropes, balloons, metal rods – there is literally a smorgasbord of the types of items you'd typically find in a physics puzzle game to aid you in your quest. It almost feels like Casey's Contraptions [$2.99] but with an injection of small rotund creatures and a whole lot more explosions.
This variation of items highlights the game's strongest feature, which is the incredibly brilliant level designs. iBlast Moki 2 is a really challenging game, and more than once I've sat there and stared at a level having no idea whatsoever what the heck I was supposed to do. This encourages experimentation and lots of thinking outside the box, and when you finally do figure out a solution it's a satisfaction greater than almost any other game can offer. I've literally laughed out loud and applauded the game so many times after seeing exactly how a certain solution worked, which has drawn quite a few awkward stares from my cat. It's worth it for the sense of accomplishment it gives you though, and iBlast Moki 2 is brimming with experiences like this.
Another cool feature this time around is the ability to see the solutions used by people on the Game Center leaderboards. So as not to be abused, you'll need to spend coins earned by completing worlds yourself first before unlocking this ability. One of the best parts about iBlast Moki 2 is figuring out how to complete a level, and just viewing how someone else did it and copying that basically sucks all the fun out of the game. I definitely recommend only using this feature after you've completed a level yourself and you're just curious how your buddy got a better score than you did, and in this way the option to see their solution is a welcome one.
Despite how wonderful iBlast Moki 2 is in practically every way, there were a couple of aspects I felt could be better. First off, the tutorials don't do a great job of explaining how to play the game. If you're familiar with the first game it's not an issue, but people coming into the sequel brand new might have a hard time understanding what the visual diagrams in the tutorial are trying to tell you to do. Still, everything will become clear with a bit of practice and experimentation, but it would have been nice to see the game cater a little better to the newbies.
The second issue that stuck out to me is the lack of precision when placing bombs and other items around a level. The majority of the time it's never an issue, but every once in a while you'll need to adjust an item placement just so, and will find it frustratingly difficult to get it how you need it. A handy window inset gives you a magnified view of objects when you're trying to connect them, which is nice, but many times it's actually in the process of removing your finger after placing an object that has a tendency to knock things off kilter. It's not anything that will prevent you from completing the game in any way, it can just be annoying at times.
Other than those small quibbles, iBlast Moki 2 fires on all cylinders. The visuals are crisp, colorful, and full of character. The gameplay retains the appeal of the original while adding fresh new elements and ideas. There's a ton of included levels, with more planned on the way, and that's not even including the robust level editor. As with the first game, I expect the community support behind creating and sharing levels to flourish, giving iBlast Moki 2 legs that extend long term. But aside from all of these bullet points or features, the absolute best part about this game is the feeling of satisfaction it gives you when you solve the challenging and clever levels. This is the part about iBlast Moki 2 that will stick with me for a very long time.
If you have even a passing interest in puzzle or physics games, you need iBlast Moki 2 in your life. It comes in 2 flavors, a cheaper iPhone only version and a slightly pricier Universal version. Both contain high resolution graphics though, and currently they are both being offered at an introductory price. If you enjoyed the first game then iBlast Moki 2 should blow you away, as it has done to the many satisfied gamers in our forums, and it stands tall as one of the best – if not the best – puzzle games in the App Store.