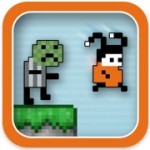 This past April, developer Physmo released Mos Speedrun [$1.99/Lite], a platformer with a retro aesthetic and an emphasis on completing levels as quickly as possible. We really liked Mos Speedrun in our review, and in fact I became rather infatuated with trying to shave even a fraction of a second off of level completion times in order to inch my way up the Game Center leaderboards.
One thing that drove me nuts, though, was seeing other players' times that were better than mine and not realizing what special shortcut I was missing out on in my own run. With the latest update to Mos Speedrun, sharing your best runs for all to see just became a whole lot easier with a new replay recording feature.
Recording a run is incredibly simple. Just pause the game during any level and press the little "R" icon in the upper left corner. It will ask you to confirm, and then will quickly record your best run for that particular level and save the video right to the camera roll on your device. From there, you can easily upload the video directly to YouTube or otherwise send it along to whoever you wish. Here's an example of my run from level 2-5 that I uploaded using the new recording feature:
What's really cool about the replay recording is it allows you to capture and record your best run from any level in the game, not just the levels that have Game Center leaderboards associated with them. One caveat though is that the recording only works on the 4th generation iPhone/iPod touch or the iPad, so if you're the owner of an older device then don't be surprised when you don't see the recording icon appear in the game.
Despite this limitation, the new video recording feature is a really great addition to an already fantastic game. If you've got a compatible device, make sure to grab this latest update for Mos Speedrun and start uploading your best times (so I can check them out and steal your techniques).