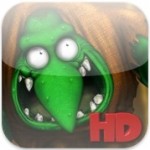 Practically everybody is familiar with Super Mario Bros., the classic NES title that you could argue single-handedly dragged the video game industry out of the muck and into the living rooms of gamers everywhere during the mid-80s. What isn't always so widely recognized, however, is the original title that preempted that release – Mario Bros. Originally an arcade game, Mario Bros. took Jumpman, the protagonist from the popular Donkey Kong series, and named him Mario, teaming him up with his brother Luigi to rid the sewers of New York from nasty varmints.
Mario Bros. is pretty different from its older brother Super Mario Bros. mostly because it's not the traditional side-scrolling platformer that we've all come to know and love, and is instead a single-screen game with arcade-style platforming elements. In the mid-90s, a clone of Mario Bros. was released for the Mac called Bonkheads. Recently, developer Around the Clock Games brought that game to the App Store as Bonkheads HD [$2.99], and if you're looking for that Mario Bros. type of gameplay on your iOS device, or you were a fan of the original Bonkheads, this new version fits the bill nicely.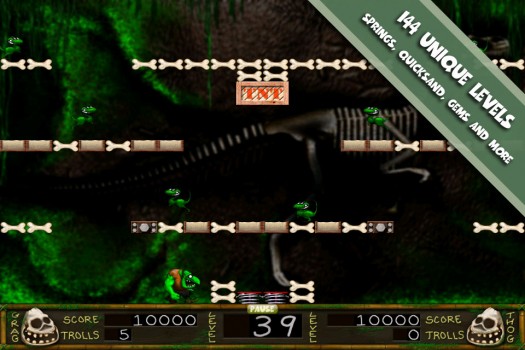 The gameplay in Bonkheads HD consists of ridding creatures that enter from the sides of the screen by jumping and bopping the platform they are standing on from below. Once you've knocked them silly from under the platform, you must then get to where there at and touch their paralyzed body to rid it from the screen. Take to long to do this and they'll eventually wake up and start coming after you some more. As the game progresses over its 144 levels, more and faster enemies will appear with various types of attacks and patterns. Bonkheads HD also introduces some new elements, like special powerups and boss battles, which add some variety to the familiar formula.
The original Mario Bros. was at its best with a second person playing simultaneously with you, and Bonkheads HD on iOS remembers that and includes a neat local multiplayer mode. It's a split-screen same device multiplayer, which gives each player their own view of the action on their own side of the device's screen. This mode works really well and is a lot of fun with a second player. Many iPad games include a same device multiplayer mode like this, but interestingly, Bonkheads HD also supports this mode for the iPhone and iPod touch. Things are pretty tiny on the smaller screen of those devices, but it's doable, and I appreciate that they give you that option even if you aren't an iPad owner.
The above developer video gives you a look at the game in action, as well as the default swipe-based control scheme. I really like these controls, as you don't have to worry about keeping an eye on where you fingers are placed while playing, but a standard virtual button scheme is available as well for those that don't end up digging the swiping.
I can't really think of any better options if you're looking for a Mario Bros. type of game on the App Store. Bonkheads HD has nice high resolution graphics, good controls, tons of levels, and OpenFeint achievements and leaderboards, though sadly no Game Center currently. It's also a universal app, and the same device multiplayer is a cool addition no matter which device you're playing on. Players in our forums seem to really like the game too, and since we're not likely to see the original Mario Bros. on the App Store any time soon, Bonkheads HD is the best option available to scratch that particular itch.