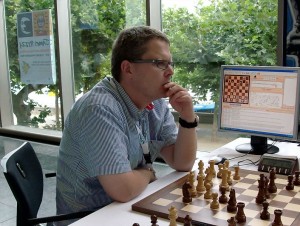 Every time I dip my head into the hardcore world of chess I feel like an idiot that has stumbled into a Mensa meeting. I'm not referring to actually playing the game of chess, but all the crazy competitions and other events which surround the game to take it to whole new levels. Today, I'm specifically speaking of the World Microcomputer Chess Championship, the World Computer Chess Championship, the World Chess Software Championship, and the World Computer Speed Chess Championship. All of these events are different flavors of the same type of event where hardcore Chess AI developers all bring their electronic chess-playing babies to compete for fame, fortune, and I assume a heck of a lot of bragging rights amongst certain circles.
Stefan Meyer-Kahlen, seen in the photo above, first brought Shredder Chess [$7.99 / Lite / HD] online in 1993, and since then has placed first at twelve of the various world chess software tournaments, doing particularly well at the speed-centric variety. The iOS version is no slouch either, with tons of functionality that will both provide some significant challenge if you're adept, as well as help you be a better player if you've got a smarmy older cousin like me who always insisted on beating you at every family gathering with a chess set nearby.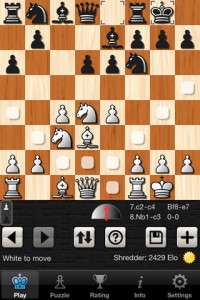 It does this through a shockingly adjustable AI engine that adjusts its strengths to yours, calculating your Elo rating along the way. If you're just starting out, you can even move the difficulty slider all the way down and Shredder will even make deliberate novice mistakes. Aside from that, there's a coaching functionality which allows you to analyze your games to see and learn from the mistakes you've made. My favorite feature is the little gauge at the bottom (seen in the screenshots) which shows what Shredder thinks the current winner will be, with some crazy accuracy, regardless of how hard I try to prove it wrong.
In addition, there are 1000 different chess puzzles, the ability to load and save games, and even export these games via the open "Portable Game Notation" format which is email-centric, and can be opened in full-fledged versions of Shredder. Also, by buying the iOS version you get a $10 off coupon which can be put towards the Mac/PC/Linux version which sells for €49.99 or €99.99 depending on whether you spring for the standard or the "Deep" variety.
Sure, there's tons of cheaper (or free-er) chess apps available on the App Store. And really, if all you want to do is play some casual games with friends, Chess With Friends [Free / $2.99] fits the bill perfectly. However, if you're a expert in need of a challenge or a novice actively looking to improve your game, Shredder Chess is where it's at, and has a shelf full of real-world trophies to prove it.