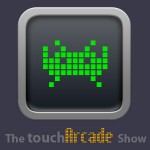 On this week's episode of The TouchArcade Show, we fight through the appeal of talking about weird people who use library computers in 'interesting' ways in order to bring you discussion of the latest and hottest on the App Store. I think Groove Coaster takes center stage, but we also end up talking a little Angry Birds, and again, the "masocore" genre. The latter is due to Jared's inability to play fun, wholesome games. Dude likes to lose — a lot.
As usual, you can hit us up just below through all of these fancy links. Additionally, you can support the show by subscribing to us on iTunes or the Zune Marketplace and then rating us sixteen stars out of five. We're good like that.
iTunes Link: The TouchArcade Show
Zune Marketplace: TouchArcade.com Podcasts
RSS Feed: The TouchArcade Show
Direct Link: TouchArcadeShow-010.mp3, 37MB
Here's your show notes! And prepare for another bonus podcast this coming Monday, as well as the regularly scheduled show this Friday. If you'd like to get in touch, [email protected] is the best way to do it, but you can also hit us up via the Twitters and the Facebooks.
GAMES
CAT GAME OF THE WEEK