Today, CAVE sent over some details for the first major update to their latest iOS bullet-hell shooter Deathsmiles [$11.99/Lite]. In case you missed it, we reviewed Deathsmiles earlier this month and found it to be quite the bee's knees. Really, my biggest negative about the game wasn't even something that was the fault of the game itself. By nature, controlling your character causes you to block part of the screen with your thumb or finger, and with enemies approaching from either side of the screen, this can create some problems.
There are 3 screen size options already which do a good job of alleviating this issue for some folks, but CAVE is trying to take it a step further with this update. You'll now be able to push the screen to the right or left, giving a much wider border edge for placing your digit to control the game. You can see an example of this in the screen below to the left.
Another new feature coming in this update, seen in the above right screen, will be the ability to unlock different costumes for the main character of the iPhone mode, Tiara. These costumes will become available by completing specific tasks in the game. Pretty much sounds like another form of achievements, but with a tangible reward for completing them. CAVE hints that some of the costumes will look familiar to fans of their other games, so it will be interesting to see just what that means.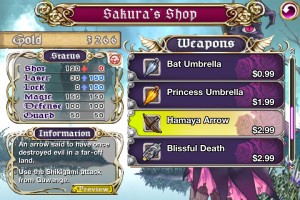 Speaking of CAVE's other games, one of the coolest new features in the update is the addition of new weapons based off of their previous titles Guwange and Dodonpachi Resurrection [$11.99/Lite]. These new weapons will be available as paid downloadable content, which based on a screen from their press release look to be about $2.99 apiece. The pricing has yet to be confirmed, though, so we might just have to wait and see.
Other items in this impending update include a brand new BGM track that is only unlockable using a special trick. CAVE can be devious with their secrets, and for this one they only offer up the hint: "Flash flash? Tap tap!". There is also a new mini-game being added that has you earn jigsaw puzzle pieces by completing armor sets (not including DLC items), and then putting the pieces together to form an illustration by one of the game's artists. Finally, they've added new items that will increase the drop rate in the game, which right now is fairly infrequent, which should make collecting items quite a bit easier.
There really is a number of cool new things getting tossed into this upcoming Deathsmiles update. The plan is to release the update a week from tomorrow, on August 6th, but you can get an early preview if you check out CAVE's UStream channel on August 5th at 11am GMT. They also note that they might give away a few tricks during the stream, like how to unlock the hidden BGM, and tease that another surprise announcement could go down too. Whether you're waking up at the crack of dawn (in the US anyway) to check out the live stream or not, be on the lookout for the new Deathsmiles update hitting next weekend.