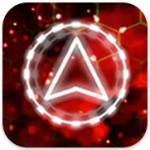 Last October, one man indie developer Owens Rodriguez released Alien Space [$1.99/Lite], a dual-stick shooter set in – where else? – space. It's not easy releasing a new game into a genre that is literally flooded with great games, but Alien Space managed to hold its own against the competition with excellent controls, interesting enemies, cool weapons, and a great upgrade system; and it had a fairly loyal following of fans in our forums.
Shortly after the release of Alien Space, Owens started kicking around the idea of creating an alternate version of the game that was based around a retro arcade look rather than the contemporary space setting of the original. We took a peek at an early version of this project back at Macworld in January, and after a slightly longer development cycle than was intended, Alien Space Retro [99¢] popped into the App Store just before this past weekend.
Alien Space Retro includes the same 30 campaign levels and survival mode from the original game, plus it has several new features beyond the slick retro graphics that are available as in-app purchases. There are 4 new weapons – 2 heavy and 2 light – that are available for 99¢ each, or all together as a pack for $1.99 which will also include any future additional IAP weapons for free.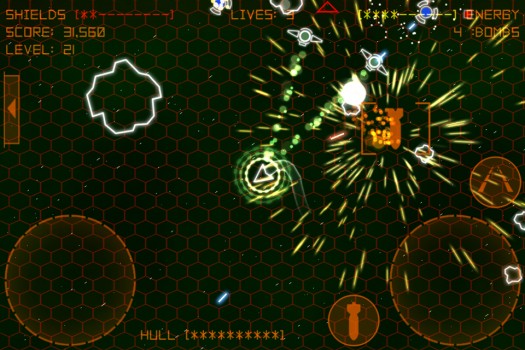 Aside from the weapons, there is also a brand new game mode called Lost in Space available for a 99¢ IAP. In this mode there are no enemies or weapons, rather you are lost in an asteroid field with a heavily damaged ship where even the slightest collision will cause you to explode. Basically, you're a 1976 Ford Pinto. To make matters worse, your energy level is constantly depleting as well, so you must be on the lookout for crystals dropped by asteroids colliding into each other in order to keep your energy level afloat.
The new Lost in Space mode is definitely my favorite part about Alien Space Retro. There is an entirely different strategy to dodging asteroids and the energy depletion factor ensures you're constantly on your toes, in my case usually in a state of panic. If you aren't the type that's fond of IAP, the campaign and survival modes included in the initial price are excellent on their own, and provide a ton of gameplay. Just be aware that it isn't a whole lot different than the original Alien Space, aside from the retro visuals.
That retro eye candy sure is nice though, with Retina Display support and more particle effects than you can shake a stick at. It's also a universal app and plays wonderfully well on the iPhone or iPad. If you aren't a fan of the retro look, and I know there are some of you out there, then consider picking up the original Alien Space if you haven't already. If you were already a fan of the original game, then the new goodies in Alien Space Retro are certainly worth checking out, and players in our forums seem to be loving the game quite a bit as well.