DrawRace [Free] just dropped to the low, low price of free for the day. This means one thing: If you don't already own it, you should download it immediately. DrawRace is a racing game that hinges around a remarkably clever line drawing mechanic where you draw the racing line for your car, and the speed that you do it at controls your car's accelerator and brakes.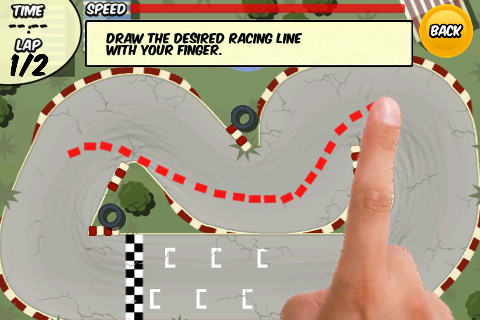 My absolute favorite part of the game has definitely got to be the pass and play mode. Up to four players can play at once, taking turns drawing their racing lines. When everyone is done, the cars all race based on each player's input, and whoever managed to draw the best racing line wins. The drawing-based input method is so simple that you can play with total non-gamers and other people who otherwise would likely never be interested in a racing game, making DrawRace a great game to just keep on your phone. There's even a sequel on the way.
Seriously, if you don't download DrawRace I'm not sure we can be friends. Unless of course you've already downloaded it, in which case, hey buddy.