There's a lot of enthusiasm around Kairosoft right now and rightly so. The studio has just released another banger in the form of Pocket Academy [$3.99 / Lite], a cutesy school simulation game that puts you in the shoes of administrator, planner, and coordinator. Prior, it wooed us all with two other simulation games, Game Dev Story [$3.99 /Lite]and Hot Springs Story [$3.99 / Lite]. Because of the language barrier, we don't get to talk to the studio as much as we'd like, which is why we're just as surprised as you when a new game hits the US App Store.
Those surprise drops and relative quiet periods of non-Kairosoft news might be at an end — Kairosoft is starting to talk to the US audience as a whole. The studio has set up a Facebook page and it's currently doing its best to keep fans interested by letting slip some neat bits of news.
For example, the studio plans to release and translate its games in order from oldest to newest, with the exception of Pocket Academy. In Japan, this was a numbered follow-up to the original, but the studio deemed it too close to its source material to warrant release of that original in the West. Also, it looks like the next game set to hit the US will be Department Store Story, which looks like a Tiny Tower [Free] meets Game Dev Story kind of simulation game.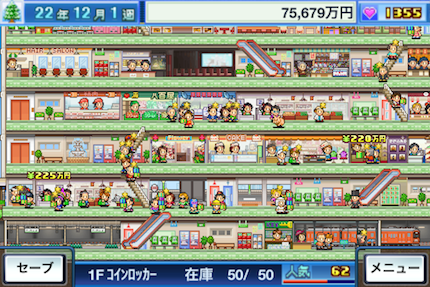 There's a few more choice factoids buried within the page, but as you'll see, some things are… being lost in translation — a common problem in dealing with Kairosoft that we discussed in-depth on our podcast the other week.
Check out the page if you'd like. Also, check out those Game Dev Story 2 (for PC) screens! My heart is about to thump out of its chest in hot anticipation of the iOS version.
[Image via Kairospot.net]