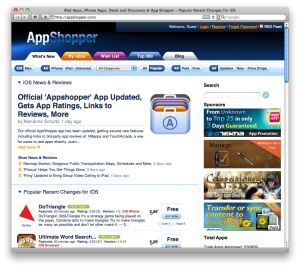 In case you didn't know, TouchArcade is part of one big happy internet family with MacRumors which is the place to go for Apple news and rumors as well as AppShopper which catalogs the App Store and actually provides quite a bit of the glue behind the scenes that makes a lot of things on TouchArcade work. If you're already familiar with AppShopper, you might be aware of most what I'm going to go over in this post, so consider this a PSA for those who aren't in the know.
The AppShopper site itself is incredibly useful because it makes browsing through the App Store quite a bit easier (and often times quite a bit faster) than just using iTunes. For instance, part of what I do every morning to find games to cover on TouchArcade involves going through the listing of all the new games that have appeared on the App Store. Similarly, you can see all games that have had a recent price drop and all paid games that recently got switched to free. That second link is particularly useful, as since it's generated as close to real time as possible you often can scoop up awesome free games hours (or even days) before they appear on the various free app promotional sites.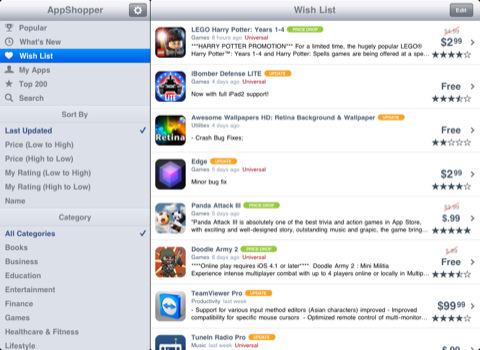 If you're only interested in iPad or universal games, there's toggles for that. Also, if viewing everything the App Store has to offer is overwhelming (which it totally is at times) you can mash the "Popular" switch to only show things that the 1,000 monkeys on the 1,000 typewriters powering AppShopper have deemed as such. Where things get really useful in all this is that every view of AppShopper has its own custom RSS feed, so if you're an RSS kind of person, you can add specific views such as popular universal games that dropped to free right in line with whatever else you've got in your RSS reader of choice.
The reason for this particular plug of AppShopper is due to a recent update to the AppShopper App [Free]. This app does everything the AppShopper site does, and more, packed into a slick native application. It's got a bunch of cool features, but what people will find the most useful around here is the wish list functionality with push alerts. If you read TouchArcade on a daily basis, you'll totally be inundated with cool games you'd like to check out. You also likely have more games than you even know what to do with already on your device which can make buying everything the instant it comes out at full price a little silly (and potentially expensive).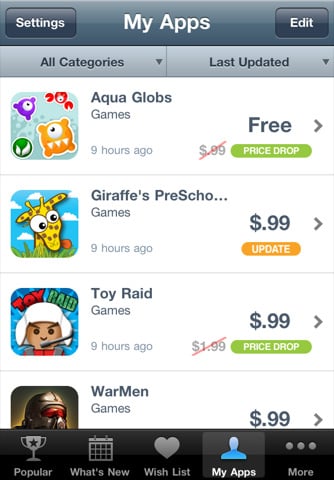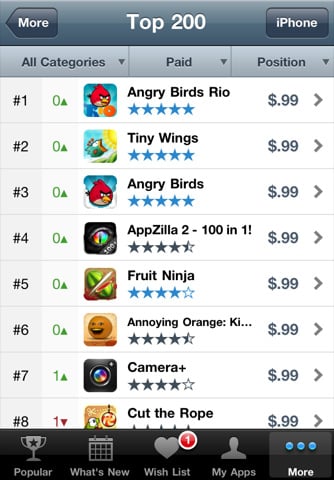 If this describes you, you should really give using the AppShopper wish list as a way to "bookmark" games a try. Here's how it works– You see a game you thing looks cool, but don't necessarily need right away. You add it, then when it drops in price you'll get a handy alert telling you so… Both reminding you that a game you thought was cool still exists, and that it's now on sale.
If you're already a faithful user of the AppShopper app, here's some great news: It's been recently updated to be even better. The app now includes links to TouchArcade reviews as well as reviews from our friends over at 148apps. Also, you can customize when push alerts get sent, so you won't be woken up at 3:00 AM anymore to be alerted that a game you've been keeping your eye on went free. (Unless of course, you want to be awoken for something like that, of course.) In addition to app ratings being implemented, there's all kinds of new filters for searching within the app.
The AppShopper app is totally free and is ad-supported. If you're the kind of person who hates ads, a single 99¢ in-app purchase will get rid of them forever.