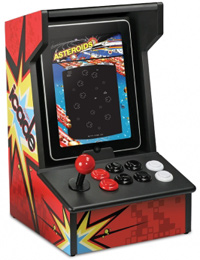 Jamie Grove over at ThinkGeek, who was kind enough to show me around their Megaplex HQ and the original iCade prototype, just sent word that, as of 3PM EDT today, the iCade SDK is available for download, without an NDA.
Just click the developers link on ION Audio's iCade page.
Granted, the iCade Bluetooth keycodes have been known for some time and iPad developers had already started to work iCade support into their titles. But with the SDK now openly and officially available — what are you waiting for, guys?