While they weren't technically the first to do it, Firemint's Real Racing 2 HD [$9.99] was the first game to officially support full screen 1080p TV-Out on the iPad 2. After the iPad 2 dropped, it was discovered that a few other games also supported this already, but more of by chance and not necessarily as a specified feature. Now Real Racing 2 HD is making sure its the first game to announce support for one of the new features revealed for iOS 5 at Monday's keynote.
When iOS 5 is released sometime this Fall, Real Racing 2 HD will support fully wireless TV-Out via the iPad 2 and AirPlay Mirroring with an Apple TV. Essentially, it will perform the same function as the TV-Out feature did using an HDMI cable plugged directly into your TV but completely wirelessly, though it won't be displayed in full 1080p. It will still run in full screen, but the maximum resolution AirPlay Mirroring can output is 720p. However, that is a very small price to pay to be able to play Real Racing 2 HD on a TV using the iPad 2 as a controller and having it be completely wireless.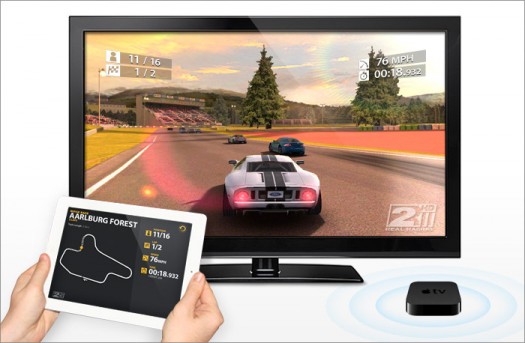 In short: I want this for every game ever. The Real Racing franchise has typically been at the forefront of adopting new and interesting features in iOS, and I really hope others follow suit. In fact, AirPlay Mirroring combined with gaming is incredibly similar to what Nintendo is touting as a huge feature of their new Wii U console that was unveiled at E3 yesterday. This gives even more credence to the talk that Apple is now a firm player in the console gaming market with AirPlay Mirroring as they increasingly try to invade the living room space.
I personally love it, and although there are many things the home consoles offer that iOS doesn't, I absolutely feel there is room for my iPad 2 as a viable option when deciding what to play on my TV at home. We'll keep a close eye on how this feature is utilized in other games too as we near the release of iOS 5 later this year.