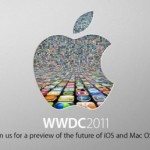 This morning Apple announced plans for the WWDC keynote which will take place this coming Monday June 6th. As usual, details are vague and the inevitable "one more thing" is veiled in secrecy, but here's what they've said so far:
Apple CEO Steve Jobs and a team of Apple executives will kick off the company's annual Worldwide Developers Conference (WWDC) with a keynote address on Monday, June 6 at 10:00 a.m. At the keynote, Apple will unveil its next generation software – Lion, the eighth major release of Mac OS X; iOS 5, the next version of Apples advanced mobile operating system which powers the iPad, iPhone and iPod touch; and iCloud, Apple's upcoming cloud services offering.
I'm anxious to see what iOS 5 and iCloud bring to iOS gaming. We likely won't know any details until the keynote itself, but I'm hoping for either an updated (or greatly refined) version of Game Center. Also, it would be super-sweet if iCloud functionality included some kind of cloud-based save game syncing across iOS devices.