NaturalMotion Games has unveiled their newest iOS offering called Icebreaker Hockey. Picture NaturalMotion's highly successful arcade-style football game Backbreaker 2: Vengeance [99¢] and apply it to ice hockey, and you have a pretty good idea what to expect from Icebreaker Hockey.
Players will race down the ice towards the net from a third person perspective, avoiding hits from opposing players using deke and spin maneuvers in an effort to get a clean shot on goal. This arcade-style of gameplay worked really well in the Backbreaker series on iOS, and seems like a natural fit for the sport of ice hockey.
Here's a set of screenshots from Icebreaker Hockey which is looking quite impressive: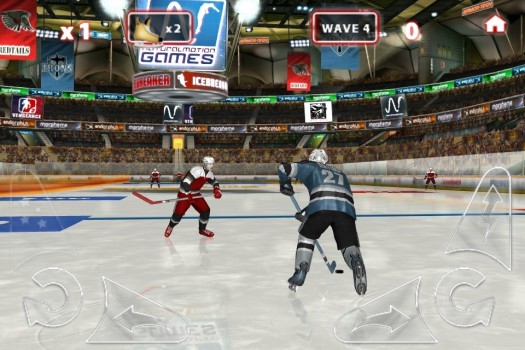 The game is being developed by Digital Legends Entertainment and published by NaturalMotion, and will also use their advanced "morpheme" animation engine to provide smooth and realistic animations to the players in the game. Icebreaker Hockey will come with 2 different modes to play across 3 difficulty levels, and will use Game Center integration for achievements and leaderboards.
Icebreaker Hockey is scheduled to hit the App Store on June 2nd at a price of $2.99. Members in our forums correctly speculated way back in October that we'd be seeing Icebreaker Hockey on iOS, and now it's actually official. We'll be sure to check out Icebreaker Hockey when it releases next week.