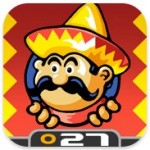 It seems fitting that the logo for Donut Games involves a cup of coffee, because these guys seem so busy that I doubt they find much time for sleep. Between releasing new games at a steady clip, and updating their old titles with new features, they are constantly putting out quality stuff for the iOS platform on the cheap. They've just released their newest game Mexiball [99¢], and like practically every one of their previous games it's another solid offering.
Mexiball is a puzzle game with a focus on matching colored balls and clearing them from a board. You're given a puzzle board with a series of slots that contain multiple colors of balls, and you can tap and drag any of these balls to move them around the board. You must figure out how to move the balls in such a way as to group all of the like-colored ones together to cause them to disappear, and you're graded up to 3 stars based on how few moves it takes you to do so.
It's a really simple idea, and one that works quite well with the touch screen. Just completing a level is generally easy enough if you use a lot of moves, but the real challenge is using the least amount of moves so you can earn 3 stars on a level. Some of the solutions that only require 1 or 2 moves are simply brilliant, and it's a testament to just how well designed the game is. There are other factors like teleporters and hazards to spice things up, and the "aha!" moment of figuring out the most efficient solution to a puzzle is hugely satisfying.
As is commonplace for Donut Games as of late, Mexiball comes equipped with Retina Display support, Game Center, and universal iPad support. Unfortunately, this is another of their games that doesn't utilize the entire iPad screen. It's not a huge issue, and the game looks and plays fantastic on the iPad, but the border around the edge of the screen is a tad annoying.
Minor gripe aside, you get a ton of bang for your buck with Mexiball, which has basically become synonymous with all of Donut Games' releases. There are plenty of positive impressions in our forums too, and if you're looking for a clever and colorful new challenge for your brain then give Mexiball a look.