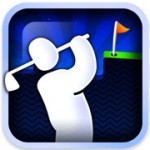 Drop whatever you're doing and head over to the App Store to download Super Stickman Golf [Link] which is currently free. Super Stickman Golf is a physics puzzle game wrapped in the veil of a golfing game. Gameplay involves choosing the trajectory of each shot as try to land your ball in the hole in a minimum amount of tries. With 29 nine-hole courses to play and plenty of ball types that grant special abilities, Super Stickman Golf is one of the most robust, challenging, and fun experiences in the App Store.
Even better than the single-player offering in Super Stickman Golf is the fantastic real-time online multiplayer that was added to the game this past April. We covered this new online mode pretty extensively, and found it to be insane amounts of fun. The goal is to be the first to land your ball in the cup, and since up to 4 players can play at once you get to see your opponents efforts as you play. Things get frantic as you try to get your ball in the cup with everybody else breathing down your neck.
With the game going free, the online component is only bound to get even better as more people are playing. It's never really been an issue finding a match anyway, but it should be easier to get full 4 player random matches with an increase in the player pool.
As an interesting aside, about 30 editors from various gaming publications have gathered for pre-E3 events down in Los Angeles, and Super Stickman Golf has been the subject of furious multiplayer battles amongst them. I can't even count all of the tweets I've seen from people at these events who are loving Super Stickman Golf, and I'd expect we'll hear more about the game during coverage of E3 next month. At any rate, it's pretty cool to see an iOS title become the talk of the town at what is the biggest event in the entire game industry.
Be sure to grab Super Stickman Golf while it's free, as it's an easy recommendation at its regular $2.99 price point and is a total no-brainer for free.