Word game aficionados, allow me to draw your attention to a freebie you don't want to pass by. 7 Little Words [Free] is a new word game from the creator of Moxie [99¢ / Free] and Moxie 2 [$1.99]. Those games picked up big followings over time, and this should be no different.
7 Little Words uses a super-simple formula that works really well. It feels a bit like a crossword or anagram game, and it's got me pretty hooked. Each puzzle presents you with seven clues for seven mystery words, and twenty two- or three-letter combinations. Put the letter combos together to make words that fit the clues. Your goal in each puzzle is to use up all the letters to create seven words.
The nice thing about 7 Little Words is that it relies on elimination. If you don't know a 7 letter word for "New Hampshire Stone," complete all the words you can and then experiment with what's left. I've certainly been challenged by this game, but I've never felt out of my depth. If you're truly stumped, you can't get stuck – you're free to move onto any puzzle at any time.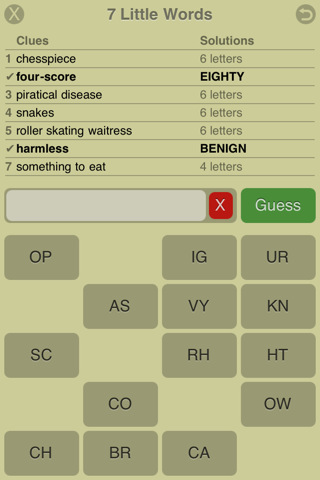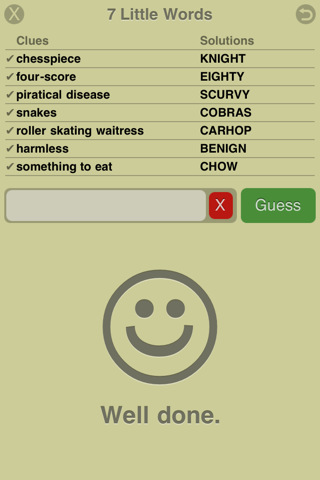 The base game has 25 puzzles, and so far there are two packs of 50 puzzles available for 99¢ each, with more to come. As an added bonus, 7 Little Words is universal. If there are any other features you'd like to see, the developer has been hanging out on our forums.
The simplicity of 7 Little Words' gameplay is a strength, but the whole package might be a bit too simple. Don't expect a fancy interface, game center achievements or any other meta-game material. That said, I'm not really complaining. 7 Little Words is a challenging, creative word game that's definitely worth your time.